←Back to restaurant list
The Flying Chicken
Order Minimum: $0.00
Prep Time: 15-30 minutes
Restaurant Description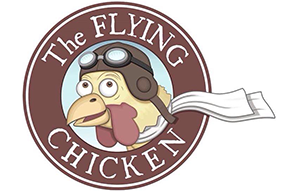 On a fateful trip to the south in April of 2010 Ian bit into a piece of fried chicken that would change his life forever. Having never had fried chicken that was so fresh, juicy, and delicious he was unaware of the potential that lied within such a simple bird. That bite brought with it a realization, that not only was this something that the North lacked, but it was something that it desperately needed. Two years later, after an ex told him he couldn't do it, Ian signed the lease for what was to become The Flying Chicken. Shortly thereafter he realized there was a problem, he didn't know how to cook. In comes Josh Coletto, a CIA trained chef that was integral in making Ian's vision a reality. Josh has since moved on but the recipes he created serve as the foundation for The Flying Chicken as it is today. Now the kitchen is run by Chef Guinevere Davis who not only brings a wealth of knowledge but also a warmth that truly puts the soul in soul food.

The Flying Chicken offers American, Burgers, Catering, Chicken, Dinner, Late Night, Salads, Sandwiches, Soul Food, Southern, Steak, Wings.

ORDER ONLINE right here on Mealeo for a quick and easy pick-up.
Restaurant Hours
Mon

Closed

Tues

11:30am - 9:30pm

Wed

11:30am - 9:30pm

Thurs

11:30am - 9:30pm

Fri

11:30am - 9:30pm

Sat

11:30am - 9:30pm

Sun

11:30am - 9:30pm
Reviews
Love this place!

Cj — 3/31/2017
We waited just under TWO AND A HALF HOURS for DELIVERY! I called about one hour after ordering, and they said they were finishing packing up our order to be delivered... LIES. Twenty five minutes after that, they called and said they were out of mashed potatoes... WHAT? Ok, so we replace our sides for other items on the menu... then finally an hour later, I called again and was told I could call back in five minutes when a manager was available... SERISOULY? So I call back, complained, and the driver showed up while on the phone. You'd think that in that amount of time, they would've made mashed potatoes at least?! How do you run out of mashed potatoes? You're a chicken place! The food wasn't outstanding, it wasn't spectacular. The mac and cheese was good but the chicken was chewy at times and just not pleasing. The biscuit was dry. Just overall, nobody was pleased with their food. Honestly, we probably won't be ordering from here ever again.

ROBERT — 10/23/2016
I have never ordered from Flying Chicken but it was not the most pleasant experience. I ordered the nugget platter and my granddaughter she said it didn't look too appetizing overall for $44 the food sucked. Sorry but the only thing I liked was the wings. First impressions mean alot and this is last order for TFC

Dale — 10/21/2016
I can recall only having had chicken like this in one other spot, in the "soul food" quarter of Baton Rouge, Louisiana; this was better, and the best fried chicken I've ever had. The stuff of dreams. Super crispy, super spicy, with moist evenly cooked white meat completely infused with succulent flavoring. Culinary wizardry of the highest order. The Mac balls are righteous, the potatoes homemade, and the cinnamon biscuits are to die for. Be prepared: delivery takes an hour to hour and a half. Shut up and deal with it; its so effing worth it.

Colin — 10/15/2016
Delivered in a timely manner.

Tyree — 4/16/2016
Wrong order delivered by the restaurant. I got a wing instead of chicken breast. It was a pick up and I checked it when I got home which was then just too far away to go back.

Rohan — 3/1/2016
That catfish knocked me on my ass. Perfectly cooked and arrived hot. Portion was good and the aggressiveness of the seasoning was, for my taste, refreshing. A side was missing but I'm too happy and impressed to care. I'll be ordering again soon. Arrived on time and the driver was a pleasant young man.

Eileen — 2/5/2016
The food is always good, but I live not even a mile away and it always take an hour+ to get my food (that's fine, take you're time! it's obviously made with love!) - unfortunately - the food is always cold when it arrives. With the distance, it's quite an enigma as to why. Their specialty sandwiches are really good - try a Waffley Good, or a Maple Biscuit.

Samantha — 1/10/2016
Came way faster than estimated which is A+ for me.

Joe — 12/17/2015
This order is for Pickup
Delivery is not available
The restaurant is closed for the selected order date and time. However, you can place an order now for a future time.