←Back to restaurant list
Capital Q Smokehouse
329 Ontario St
Albany, NY 12208
(518) 252-0984
Order Minimum: $6.00
Prep Time: 20-35 minutes
Restaurant Description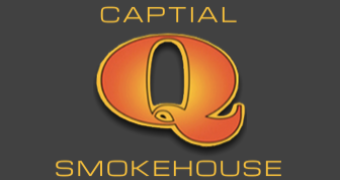 Welcome to CAPITAL Q SMOKEHOUSE. The Capital Q Smokehouse, owned and operated by Pitmaster Sean Custer is Albany's favorite BBQ restaurant. Chef Sean, an Okie (one who is from Oklahoma for you New Yorkers) has over 25 years restaurant experience. His culinary training includes Executive Sous Chef at the 3 Star Mark Hotel as well as General Manager of the local Classe Catering. From his roots and training Chef Sean has found the balance between fine dining, and damn fine BBQ. Housed in the old Meister's Meat Market, Capital Q's kitchen includes a smoker that has literally smoked thousands of pounds of meat over the last 75 years. Specializing in Pulled Pork, Texas Style Beef Brisket and Pork Ribs, there are options for every day of the week. With 4 original sauces and 5 original rubs, each menu item is designed to give the palate a different taste, the patron a different experience. Served by the piece, plate, pound or bun, Capital Q has a serving just for you. Complimented by a plethora of tasty side dishes, some traditional southern, others just plain delicious, you won't walk away unsatisfied, unless you're a Vegan. Got more mouths to feed than fingers and toes? Capital Q has a full catering menu and the ability to feed the family, the block or the neighborhood.

Capital Q Smokehouse offers American, BBQ, Cajun, Catering, Ribs, Sandwiches, Southern, Wings.

ORDER ONLINE right here on Mealeo and we'll deliver it right to your door!
Restaurant Hours
Mon

Closed

Tues

11:00am - 9:00pm

Wed

11:00am - 9:00pm

Thurs

11:00am - 9:00pm

Fri

11:00am - 10:00pm

Sat

11:00am - 10:00pm

Sun

12:00pm - 10:00pm
Reviews
Fast delivery & good food!

Tawana — 10/29/2018
Outstanding...Food and Service Excellent,,

Tom — 11/18/2017
Ashley — 11/12/2017
Great BBQ, and the cornbread is fantastic

Kevin — 9/4/2017
On time fast and friendly.

Donna — 7/14/2017
I've had BBQ all over the country. Some of the best. A true meat oasis in Albany.

Meghan — 7/7/2016
Hands down, best BBQ place in the Capital Region!

Paul — 9/15/2015
These guys never fail to impress me. The yardbirds are always fantastic and the brisket is always perfect. Love the pickled onions too. This is THE place to go for smoked meats in Albany.

Edward — 7/31/2015
Always fantastic!

Mike — 8/22/2013
Good food. Friendly delivery man. If you're ordering late, don't get the rice and beans because they are a bit stale.

Anna — 2/22/2013
Consistently the best barbecue in the Capital Region.

Bryan — 1/31/2013
Fantastic food and friendly staff. A great place.

Jeffrey — 1/30/2013
Great BBQ food and the side dishes are wonderful too. If you're in the mood for home cooking, don't hesitate to order from here. Top notch!

Shannon — 10/4/2012
First time ordering here, food was great!

Nicole — 8/5/2012
If you want lines and hype, go somewhere else. If you want great BBQ, Capital Q is the place to go.

Bryan — 7/15/2012
Just excellent. Food was incredible and delivery was fast and friendly.

Mike — 5/26/2012
Always excellent food

Scout — 4/12/2012
The food is fantastic.

James — 2/19/2012
Always great food! Delivery people make extra efforts when the streets close down randomly.

Matthew — 1/2/2012
excellent food fast delivery

Jamie — 12/27/2011
best BBQ in albany and fast delivery

Carolin — 12/10/2011
The food was amazing. I love Capital Q.

Scout — 12/8/2011
Ribs were amazing. Delivery was quicker than expected.

Rachael — 11/2/2011
Quick, courteous and delivered with no hang-ups, the deliver service was top notch. The food was everything I expect from both the restaurant and the truck (which I sometimes frequent at the ESP).

Sean — 9/29/2011
Best BBQ in upstate NY.

Emily — 9/24/2011
The food is amazing and the staff are some of the most polite people I have ever met in my life. Love this place

Richard — 6/26/2011
Amazing, delicious food with prompt service. My favorite Albany restaurant, hands down.

Jessica — 5/27/2011
Every time we eat here the food is fantastic.

Bryan — 4/14/2011
Fast delivery. I can't tell if I like Capital Q or Dinosaur BBQ better, but one of them is definitely the best BBQ I've ever had.

Chris — 2/17/2011
Order was delivered in time frame specified. Food was hot and delicious. I would definitely order from Capital Q on Mealeo again.

Rachael — 12/30/2010
Quick and delicious!

Summer — 12/21/2010
Quick, easy, and good.

Matthew — 9/29/2010
Quick, easy, and good.

Matthew — 9/29/2010
AMAZING

Conor — 9/17/2010
Great place. Glad it is in my neighborhood.

Travis — 7/9/2010
food was good as always. one problem is that I odered 2 cans of soda but it didnt processthere might be an issue with the program, otherwise great job!

Jennifer — 6/20/2010
Great food! Delivery was prompt.

Michele — 6/12/2010
Everyone was happy with everything! This place is the best.

Kent — 5/28/2010
The staff was very friendly.Order was ready right on time, and it was hot and delicious.

David — 5/8/2010
Best BBQ ANYWHERE...hands down! Perfect for a tummy-filling meal!

Susan — 3/25/2010
The entire order was not completed. Missing coleslaw.

Megan — 9/25/2017
The Q-Ben sandwich was amazing, always good food.

James — 10/1/2013
Delicious food, really fast delivery. Ordered the meal deal and they forgot my soda. The food made up for it, though :)

Carrie-Lynne — 2/9/2013
I ordered the pulled pork sandwich (okay, no cole slaw as advertised but that's fine with me), fried okra, mac and cheese (yum) and the beef jerky (delicious for the 2 bites I had - my dog stole the rest when I wasn't looking, and she seemed to enjoy it).

Kristina — 5/13/2011
Pretty good stuff...

Glenn — 3/4/2011
Delivery was fast and food was delicious, as usual. My only complaint is that the mashed potatoes were not as tasty as they usually are. Hope it's a one-time anomaly. I'll definitely order from Capital Q again.

Rachael — 2/26/2011
Food arrived fast (40 min), hot, and delicious. Great wings! Ribs are enormous and tasty. Chicken nicely brined and smoked. Will no doubt order again.

William — 2/12/2011
Great BBQ!!!!!

Tim — 12/6/2010
Fantastic BBQ. Perfect size portions. Enough to fill you up, but leaves you wanting more.

Bryan — 6/3/2010
I'm giving this 3 stars because the food is usually good, but tonight I ordered the Okie Beef Brisket, which was delivered to me without the Okie sauce! I mean, it's in the name! Kinda important. Without it, the brisket was on the dry side.

Alexis — 1/7/2017
The food is always good, but anytime I order from Capital Q, I usually don't receive the sides I've ordered. Tonight I ordered the maple mashed sweet potatoes, received BBQ baked beans.

Joanna — 12/3/2014
I was charged for beef brisket but received pulled pork, was good but paid 13.50 for a plate but received a cheaper item

joy — 8/25/2014
Food was excellent as always. We ordered 2 orders of Cornbread that was not delivered with the rest of the order. When I called, they offered to run it out to us but we had taken the food out of their delivery radius. They then refused to go the extra couple miles from Whitehall rd to Delmar just off Delaware ave. I asked for a refund of the cost of the cornbread but I do not believe they ever processed it.

Jennifer — 6/22/2014
they sent us home with the wrong order. Called our house and said "you guys picked up the wrong order" (more specifically, they GAVE us the wrong order). So hubby had to schlep back to restaurant to get correct food; of course they couldn't take the "wrong" order back so we had four dinners total. And we were really excited to try Capital Q after reading the reviews, but the food? meh.

Rebecca — 5/14/2010
Did not receive full order.

Alex — 2/16/2010
Waited over an hour. Food was meh. The mac and cheese was so over cooked it was like paste. Disgusting. Anything that was supposed to be crispy or toasted was wet and wilted from the takeout containers. The corn bread was stale. Big fail all around.

Jill — 4/14/2017
Used to love this place- hoping we just hit it on an off day! Food was hot and ready on time but meat was swimming in grease and sides were totally unimpressive.

Carrie — 9/15/2015
It took close to an hour when we live right down/up the street and I didnt receive a medium side dish that I paid for. Love this place but tonight's order just wasn't as great.

Casey — 4/15/2015
I've never tasted worse bbq. Dry cornbread, and the ribs almost tasted microwaved. The only good thing was the pulled pork sandwich.

Jason — 7/17/2010
Second time in a row that they only delivered half of my order and then we had to wait for the driver to go back across town to deliver the second half - not sure I'll be ordering again

Jp — 3/1/2015
Add items to begin your order.