←Back to restaurant list
Cousins Pizzeria
605a New Scotland Ave
Albany, NY 12208
Order Minimum: $20.00
Delivery Time: 45-60 minutes
Restaurant Description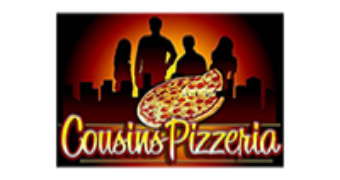 Cousins Pizzeria located on 605a New Scotland Ave, Albany, NY is a must try pizzeria. They serve fresh and quality ingredients. From Wings and Pizza to Hot and Cold Subs we are confident they have something your would love to taste. Order for pickup or delivery right here.

Cousins Pizzeria offers American, Catering, Italian, Pasta, Pizza, Salads, Sandwiches, Subs, Wings, Wraps.

ORDER ONLINE right here on Mealeo and we'll deliver it right to your door!
Delivery Hours
Mon

11:30am - 7:30pm

Tues

11:30am - 7:30pm

Wed

11:30am - 7:30pm

Thurs

11:30am - 7:30pm

Fri

11:30am - 8:30pm

Sat

3:00pm - 8:30pm

Sun

Closed
Reviews
I go here a lot on my lunch break at work.. . .. The pizza is great.. I tell everyone about Cousin's

Shaina — 4/28/2018
Finally...a great, consistent pizza place close to home. Great food , great prices. Thank you! Brian

Meghan — 2/23/2018
Excellent pizza and hot jalapeño poppers!

Sharon — 1/17/2018
Ready quickly and delicious.

Michael — 8/24/2017
Always consistent. Good servive.

Meghan — 4/30/2016
Best takeout food experience in this area. Unbeatable!

Ivan — 2/28/2016
Never delievered...even after calling them directly...complete scam that does not deserve to be in business

jp — 9/22/2017
Waited an hour and ten minutes and couldn't eat the pizza or dough knots. 2nd time we got the pizza so soggy and limp the toppings slid right off. Store was closed so we couldn't call to complain this time. The last time it happened (about a month ago) manager said something about an oven not working right. Sent us a good one right away. Fried dough tasteless and dry except cinnamon which I did not want on it. Didn't know I had to say that. The antipasto was good. I think the pizza would have been good if not gone soggy.

D'Marie — 4/30/2017
They are just doing it all wrong. Thick meats and cheese, chewy chicken, no good.

Shannon — 5/1/2016
Cousins Pizzeria is not accepting online orders at this time.