←Back to restaurant list
Crave
217 Western Ave
Albany, NY 12203
Order Minimum: $15.00
Delivery Time: 45-60 minutes
Restaurant Description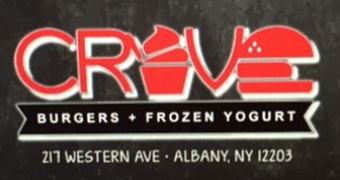 Chef and co owner of Crave, Devin Ziemann is a local chef who has always had dreams of opening his own restaurant. Ziemann started out as a dishwasher in 2002 and since then has worked every position in the kitchen. In 2004 he wanted to refine his passion in the kitchen by attending the SCCC culinary program. During his time at SCCC he expanded his knowledge even further by taking the opportunity to work at the Disney culinary program and the Kentucky Derby. After graduation Ziemann had the chance to work for some of the biggest name Chefs at some of the most well known restaurants in the area. Ziemann had a key role in opening two fine dining establishments and the executive chef at one casual dining restaurant that all had tremendous success in many parts thanks to Ziemann. After years of work he was recognized in 2014 for the wine and dine arts festival rising star chef. His passion for great food, creativity, flavor and hard work really speaks for itself if you have ever dined at his restaurants before. Growing up local to the albany area he is excited to open his own restaurant right in the heart of Albany. General manager and co owner of Crave Kaytrin Della Sala has had dreams of opening a frozen yogurt shop for several years. After attending SUNY Oneonta and graduating with a degree in dietetics and food service management she knew she wanted to open her own restaurant. Kaytrin has been working in the restaurant industry since 2006 and learned early on how much she loves working with people and how valuable good customer service is. She has a passion for the little details which really shines through at crave from the interior decoration to the unique toppings for the frozen yogurt. Kaytrin is grateful to open a restaurant that she is so passionate about in an area that she grew up in. Devin and Kaytrin met while working together at a restaurant in the area and found that they both have a passion for food and a dream to open a restaurant. Together they have worked extremely hard to make this dream a reality and cant wait to share this vision with the community.

Crave offers American, Burgers, Fast Food, Frozen Yogurt, Ice Cream, Italian, Lunch, Salads, Sandwiches, Shakes, Steak, Subs, Wings, Wraps.

ORDER ONLINE right here on Mealeo and we'll deliver it right to your door!
Delivery Hours
Mon

Closed

Tues

11:30am - 8:00pm

Wed

11:30am - 8:00pm

Thurs

11:30am - 8:00pm

Fri

11:30am - 8:00pm

Sat

12:00pm - 8:00pm

Sun

12:00pm - 8:00pm
Reviews
Muy Bueno

Paul — 9/16/2017
LOVE LOVE LOVE. HOT AND PERFECT EVERY TIME!!! TWICE BAKED BURGER IS THE SHIZNIYEEEE

Shaq — 8/19/2017
Awesome food; not run-of-the-mill. Fast, friendly service. A favorite!

Kelly — 7/5/2016
Fantastic salads and the best grilled cheese i've ever had-

Kelly — 6/3/2016
Best salad I've ever had--

Kelly — 5/3/2016
I just during the bus drive, so i chose to order and it became my favorite. Delivery speed is always fast~ok and food is amazing. Also little cheaper than other restaurants.

Scott — 4/4/2016
Fast delivery and a delicious burger. What more could you ask for?

David — 3/22/2016
Great Burgers, you must try the truffle fries also!

Morgan — 3/20/2016
First time ordering. The curry burgers are excellent.

Paul — 2/25/2016
Everything was amazing!!!

Matthew — 2/13/2016
Didn't get fries with my $11 burger.

Sara — 9/11/2018
Ordered 80 mins ago. Just called restaurant and was told "yeah we're working on that now...should be heading out in 20 mins." Barely offered an apology. Awful customer service. Why not call me to let me know they're busy if that was the problem?

Michael — 1/24/2018
Crave is not accepting online orders at this time.