←Back to restaurant list
I Love Ny Pizza (552 Central)
552 Central Ave
Albany, NY 12206
Order Minimum: $15.00
Delivery Time: 50-65 minutes
Restaurant Description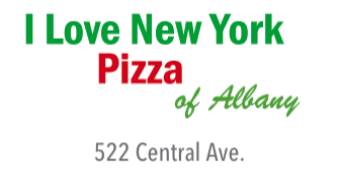 Welcome to I Love New York Pizza located at 552 Central Ave, Albany (Between N. Main & Manning). Order online for delivery or pickup and see why we were voted BEST PIZZA by the readers of Capital Region Living Magazine. We deliver within 4 miles, and we look forward to serving you.

I Love Ny Pizza (552 Central) offers American, Catering, Italian, Pasta, Pizza, Salads, Sandwiches, Seafood, Steak, Subs, Vegetarian, Wings, Wraps.

ORDER ONLINE right here on Mealeo and we'll deliver it right to your door!
Delivery Hours
Mon

11:00am - 9:30pm

Tues

11:00am - 9:30pm

Wed

11:00am - 9:30pm

Thurs

11:00am - 9:30pm

Fri

11:00am - 10:30pm

Sat

11:00am - 10:30pm

Sun

4:00pm - 8:30pm
Reviews
Pizza was delicious, timely delivery!

Nathan — 10/16/2018
Fast & Delicious!

Rosanne — 7/19/2018
In my opinion, best pizza in Albany!

Kayla — 2/3/2018
Very fast!!!!

Christopher — 2/27/2016
Always good

Robynn — 1/20/2016
Always good

Robynn — 1/20/2016
Always good

Robynn — 1/20/2016
Always good

Robynn — 1/20/2016
Great pizza with fast service. 5 Stars!

Nicholas — 10/12/2015
Order delivered promptly. The wings and pizza tasted awesome. I have been out of town for the last 10 years and just moved back. I Love NY Pizza is still the best.

Steven — 10/8/2015
I was satisfied with service today

Adaizala — 6/20/2015
Very quick service both on the website and in getting the food. The food quality is among the best in the area. I'd strongly recommend ordering online through I Love NY Pizza of Albany. You won't be disappointed.

John — 5/7/2015
Very good!

Nicole — 8/1/2012
delicious and on time ...thank you!

vicky — 4/17/2012
Food was great & hot! Quick delivery.

Nicole — 4/12/2012
very good food and fast delivery

Lisa — 11/29/2018
Food is cheap and decent. Delivery is always fast and accurate.

Nicholas — 7/5/2016
My delivery driver refused to bring my order upstairs there is a difference between delivery and curbside delivery. I live in a bldg for the elderly and disabled so I have difficulty getting around which is why I order delivery. He then stated we dont deliver here anyway. Which makes no sense. Although the food was good I wont be ordering again.

Sophie — 12/28/2016
Been waiting quite a while now. That busy on a tuesday night?

Steven — 4/28/2015
The food was decent, but the pizza delivery guy lied to the front desk of my hotel. He told them he came to my room and nobody answered the door, which is not true, because the front desk called me to tell me there was a food delivery before he even "came up", so I was waiting near the door. The hotel staff delivered it to my room. I wouldtake back the too I left on mealeo, if I could.

Laura — 3/16/2014
Selected 1 pm as delivery time. There's no reason this says asap. First time ordering and am very irritated. They came 30 minutes early. Left to be seen if they'll return with cold food at the proper time.

Wendi — 11/30/2016