←Back to restaurant list
Madison's Pizza
846 Madison Ave
Albany, NY 12208
(518) 213-3009
Order Minimum: $5.00
Prep Time: 30-45 minutes
Restaurant Description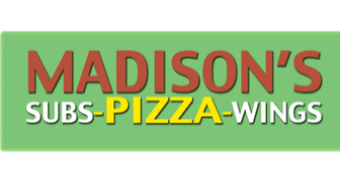 Madison's Pizza was established in 1993. We are family owned and operated, ensuring a quality menu at a reasonable price. We use fresh quality ingredients to bring you the best tasting food around. Order right here for fast and reliable service.

Madison's Pizza offers American, Burgers, Calzones, Catering, Italian, Pizza, Salads, Sandwiches, Subs, Wings, Wraps.

ORDER ONLINE right here on Mealeo and we'll deliver it right to your door!
Restaurant Hours
Mon

11:00am - 1:00am

Tues

11:00am - 2:00am

Wed

11:00am - 1:00am

Thurs

11:00am - 2:00am

Fri

11:00am - 2:00am

Sat

11:00am - 2:00am

Sun

11:00am - 1:00am
Reviews
I cant say enough good about the Cajun chicken pizza by any means. I just ordered for pickup and if you let the fresh mozz cool a bit and set up it gets tastier. Real premium fresh pizza no doubt. It is pricey for pie or by slice but try to appreciate the effort put in. Good job guys!

Jason — 5/19/2017
Best pizza and wings in Albany

William — 8/21/2016
I love this place Madison Pizza is always a win win for my family. They have something for everyone. The Cheeseburgers are great as well as the pizza and subs. Thank you Madison you make a Mothers job so much easier. And Mealo gives us piece of mind when having to order out.

Christina — 4/22/2015
Ordering is easy, the delivery was prompt and most times early. But best of all the food is awesome.

Christina — 4/22/2015
I have ordered from Madison's Pizza several times. They always have fast delivery, prices are reasonable & food is delivered fresh, hot & tasty!

Michael — 10/17/2012
thank you for filling my special request!

Alan — 3/18/2010
same pizza different place but good service.

Brian — 3/18/2010
Nice response time.

Samuel — 10/13/2014
They were willing to accommodate an "above and beyond" request since i needed them to come up the fire escape due to my own injury. They were happy to oblige, they were respectful, they came within the agreed upon time, and the food was good!

Q — 7/26/2014
turkey melt was excellent wings were good -- but not boneless as per the menu

Mike — 11/1/2011
fast. polite delivery boy. i like the pizza but the cookies were atrocious. sorry but they bad

Janice — 8/31/2011
pizza was not that great

jason — 7/31/2013
Ordered gyro with sauce on the side. Got a gyro with NO sauce :(

Lisa — 8/4/2017
Portions are to small!

Mike — 8/26/2015
Ordered food at 515 and did not get delivered until 645. Then food is ice cold, could not even eat the garlic bread and had to reheat my calzone

Shawn — 5/3/2015
DO NOT order from this place on a weekend. Took more than 2 hours to get a medium pizza and a dozen wings delivered a few blocks. Food was COLD when it arrived.

Mat — 9/28/2015
After waiting around for an hour after placing my order, I called to find out where my delivery was. They didn't know what I was talking about at first and then they realized that they never processed my order initially. An hour and a half later I finally had my sub.

David — 6/28/2015
Add items to begin your order.