←Back to restaurant list
Noho Pizza
195 Lark St
Albany, NY 12210
Order Minimum: $10.00
Delivery Time: 40-55 minutes
Restaurant Description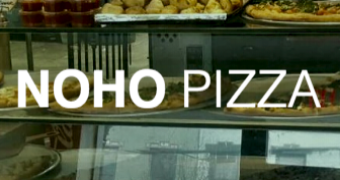 Welcome to NOHO PIZZA located at 195 Lark St, Albany. Serving piping hot (and fresh) pizzas, gourmet pizzas, wings, salads, calzones, Italian dinners, gyros and more - we have something for everyone. Order online now for faster delivery. We'll deliver to just about all of Albany and parts of Loudonville, FREE of charge.

Noho Pizza offers American, Catering, Greek, Italian, Pasta, Pizza, Salads, Sandwiches, Seafood, Steak, Subs, Vegetarian, Wings, Wraps.

ORDER ONLINE right here on Mealeo and we'll deliver it right to your door!
Delivery Hours
Mon

9:00am - 9:30pm

Tues

9:00am - 9:30pm

Wed

9:00am - 9:30pm

Thurs

9:00am - 9:30pm

Fri

9:00am - 9:30pm

Sat

10:00am - 9:30pm

Sun

10:00am - 9:30pm
Reviews
Great food from great people!

Christopher — 10/3/2014
The cheese pizza tastes perfect as always! Crispy, hot, just the right ratio of sauce and cheese. You definitely get quality for the money, especially with their deals. Its practically a steal! Order the garlic knots, too! They're bites of heaven, dripping with garlic butter but not overly so, crunchy on the outside but so decadently soft on the inside (but not at all doughy!). Once again, they are the perfect balance of deliciousness! I've been ordering from Noho for years and am never disappointed!

Violet — 3/4/2014
Good food and friendly staff, would highly recommend over any other Albany pizza places!

danielle — 1/19/2014
Always great! And super Fast Delivery!

Lee — 1/12/2014
The pizza was good and the delivery was fast. The best part was that my order got submitted twice and they called me up immediately to let me know so that I could contact mealeo. I will definitely order from them again.

Zackariah — 11/15/2013
Fast delivery, great pizza and the cheesecake was delicious! Will be ordering from here again!

Kristina — 10/20/2013
They always come closer to the 20-30 minute mark than other pizza places which take a full hour. Speedy service and just the right mix of sauce, cheese, crust, and fresh toppings make this one of our favorite pizza joints in the Albany area.

Elaine and Russell — 10/18/2013
Fast and smelt awesome. Thanks!!

michelle — 10/14/2013
Their Stromboli's are enormous! Their pizza is great! They always deliver on or before time. Great Restaurant.

Lee — 10/13/2013
Great Pizza. Fast Delivery. A+ for having a Gluten-free option too. -Andrew

Andrew — 10/8/2013
Excellent.

Brendan — 12/2/2012
Good food, but arrived 15 minutes earlier than the delivery time, and I was not able to meet them before then.

Autumn — 8/1/2014
really great food and service. the cheese pizza was hot and the various sides ordered were just as good.

Josh — 3/3/2014
Buffalo Chicken pizza was dry and close to flavorless.

Benjamin — 10/4/2015
Ordered the cheese steak pizza, which was described as having steak and basil.... the latter being one of my favorite flavors on food. There was literally not a single shaving of basil anywhere on the pizza. I also ordered wings with the following special instructions: "Extra extra extra crispy. Like almost burnt crispy. As in- I tell most places this is how I want them and they're usually not crispy enough." I thought that was pretty clear. Wings were not crispy, at all. Will not be ordering from here again.

Natalia — 11/18/2013
This is the highest score I could've possibly given this order. The cheese pizza is the only good thing I received. I arrived at the pizzeria at 2pm, as my requested pickup time. Upon arriving, I was told that the email was never received, and that I'd have to wait. 20mins!!! later I was handed 2 pizzas. Once I was able to enjoy my pizza, I sat down to a nice cheese pizza,...and something else. Although I had ordered a medium chicken, bacon, ranch; this is not what I received. What I received, seemed like a Digiorno, topped with vegan chik'n, turkey bacon, and Elmer's glue. Simply inedible I WILL NOT BE RETURNING

Cameron — 8/29/2015
Placed order it was received and confirmed by the resturant and then I was never delivered food so they just stole 30dollars from me think twice before you order

Phillip — 5/18/2014