←Back to restaurant list
Pepper Jack's
192 North Allen St
Albany, NY 12206
Order Minimum: $20.00
Delivery Time: 45-60 minutes
Restaurant Description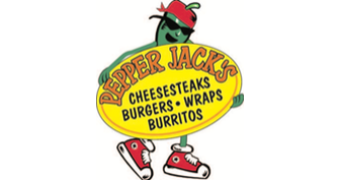 Welcome to Pepper Jack's located on North Allen St. in Albany, NY 12206. We've been serving delicious cheesesteaks, burgers, burritos, wraps, and panini's to Albany for more that 15 years! Our menu features favorites like sweet potato tots, the classic Philly cheesesteak, chicken quesadillas, and burgers that never disappoint. Now you can order online during lunch hours for pick up or delivery and we'll bring it straight from our door to yours!

Pepper Jack's offers American, Breakfast, Burgers, Burritos, Cakes, Catering, Cheesesteaks, Italian, Mexican, Salads, Sandwiches, Steak, Subs, Vegetarian, Wraps.

ORDER ONLINE right here on Mealeo and we'll deliver it right to your door!
Delivery Hours
Mon

10:00am - 9:00pm

Tues

10:00am - 9:00pm

Wed

10:00am - 9:00pm

Thurs

10:00am - 9:00pm

Fri

10:00am - 11:00pm

Sat

10:00am - 11:00pm

Sun

Closed
Reviews
I love this place food always fresh and yummy..

Charlotte — 8/15/2018
Great food. Clean, fresh, well seasoned. We (coworkers) enjoy lunch 100% more when it comes from Pepper Jacks!!!

Angela — 7/31/2018
Delicious. Fast. Thank you!

Laura — 5/25/2018
I Love PJacks! Fast, Good Variety and delicious!

Amy — 5/2/2018
THE BEST MAC SALAD in the world. My life was shattered though when I found out they discontinued the Turkey Wrap.... LOL So now I have to find a new favorite. All in all a great place to eat, staff is super friendly. FOOD EXCELLENT

Frank — 1/25/2018
Everything I've ever gotten from Pepper Jack's (in person or delivered) has been phenomenal.

Kayleigh — 1/20/2018
Delicious.

Gary — 1/16/2018
Pepper Jack's have the greatest fried green beans ever.

Donna — 12/5/2017
So good and recently discovered! I commend any business willing to offer gluten free bread for their burgers and sandwiches. Though I didn't stay, the place was super cute too. Highy recommend.

Gretchen — 10/25/2017
It's back to normal. Delivery time is stable and food is nice. They got good delivery mans as well.

Scott — 4/3/2017
Delicious! Thanks and thanks for the speedy delivery.

Elizabeth — 3/21/2017
Very yummy, thanks!

Elizabeth — 3/21/2017
Great food and delivered in a timely fashion.

Michele — 1/16/2017
food is great!!

Kathryn — 1/5/2017
Awesome as always

Laura — 1/3/2017
Awesome as always

Laura — 1/3/2017
Always as ordered! Thanks

Anthony — 1/3/2017
Fast delivery and good food as always!

Ciera — 12/6/2016
Always fast delivery 25 minutes average. Hot food and orders always accurate. Love this place for its quality and consistency!

Nicholas — 7/5/2016
Quick delivery and order was correct

Justin — 5/21/2016
Food arrived hot and sooner than estimated.

Matthew — 5/21/2016
Always fast, kind, and delicious. I ordered for more than 10 times and food never came late.

Scott — 5/9/2016
I did not like the food but I dont really know about Mexican food so I will just skip this part. Delivery was quick. Most of all, the delivery guy was delighted and kind.

Scott — 3/16/2016
Never a disappoint one of my fav restaurants food is always fresh and delicious

Sofia — 11/1/2015
Great place to eat

Meagan — 8/21/2015
Excellent food

Meagan — 8/21/2015
Great food.

Meagan — 6/4/2015
Love pepperjacks

Frank — 5/26/2015
Pepper Jacks has high quality meat and vegetarian meals. They even have gluten free options with that all American taste you won't find elsewhere.

Raven — 5/14/2015
Great packaging, food, very accommodating, and the driver even found my office on the first try!

Laurie — 5/8/2015
Quick response

justin — 4/24/2015
Food arrived quickly and was delicious.

Nancy — 4/11/2015
Excellent as always PJacks!

Amy — 9/5/2014
Pepper Jack's is one of my top five favorite burger/sandwich joints in the Albany area. They are very swift with preparations, but the meals are well put together and never sloppy! The food is fresh and tasty and juicy.

Raven — 6/28/2014
excellent!

Amy — 4/8/2014
PJAX! excellent as always!

Amy — 4/8/2014
yay! PJAX!

Amy — 4/8/2014
delicious!!!!

Margaret — 3/30/2014
excellent food, delivery was quick

Kathrine — 3/8/2014
Well we have ordered here twice this week--if that doesn't say enough. We have had their Moz. Panini, and blue cheese salald, and cheese burger--SO GOOD!

Nicole — 12/7/2012
It was very good, thank you! Really loved the Chicken Ranch sandwich.

Nicole — 7/2/2012
First time using Mealeo, we ordered, and then the restaurant called to say they don't deliver to our part of Albany. Now, the restaurant is awesome that they agreed to deliver anyway because of Mealeo's error, so five stars for food and service both! Boo to Mealeo for making it harder on them and us

Jessica — 2/26/2011
Great cheesesteak, reuben and cookies.

Peter J. — 1/25/2011
Totally great, delicious and fresh. Will definitely order again.

Kevin — 4/16/2010
So Fast and so good. Why dont they have other locations??

Philip — 3/12/2010
Great food! Great prices! DELICIOUS CHEESESTEAKS!

Robert — 2/6/2010
Food was delicious, but delivery was horrendously slow. Would order again, but just earlier to ensure we have it in time for the office lunch.

Dorothea — 7/27/2017
Ordered the Supreme Philly and got the Original

Jennifer — 1/6/2017
very efficient!

shannon — 12/23/2016
Food was great per usual... delivery was extremely slow per usual. Called after an hour and person on phone was rude and acted like it was my fault it took an hour and twenty minutes to deliver.

Brendan — 11/17/2015
Good, delivery could be faster

Tanner — 3/30/2015
Was a little worried about the delivery time, thought it was taking longer than expected. I thought I accidentally set it to pick up, it was taking so long. Nonetheless, the food was delicious and will be ordering again from here.

Amy — 3/7/2015
1st time we tried it, food was awesome. Your chili is amazing,Thanks for doing the gluten free rolls it is a pleasure to be able to eat gluten free and have good food. great job.

scott — 9/19/2014
Delicious and right on time.

Autumn — 8/1/2014
Great sandwich, as always, and packaged well so the fries didn't get cold. Yum,

Laurie — 3/19/2011
Sandwich was't hot and carrot cake was very dry.

Valorie — 3/22/2016
Ordered Cajun Sampler and received regular sampler.

Paul — 5/14/2018
Placed the order almost 1.45 hours ago and they are now 40-50 minutes late delivering the food. Usually they are good, but tonight we are NOT impressed at all. We're crossing our fingers the food isn't ice cold.

Donald — 11/1/2018
chicken mini tacos was gross

crissangel — 12/8/2017
They are starting to get worse. They sent me food with wrong option few times before and said that they got a new chef. Today, it too 1 hours and 40 minutes for the food to get here, cold and dry. I guess i shoud only order simple menu, or ill get crap like this again in high chance.

Scott — 2/1/2017
They forgot my order again and always tell me " we just got ur order" excuse but we get email confirmations to let us now that so why lie to my face, plus they did not give me a refund. Very unhappy with pepper jacks

Frank — 6/12/2015