←Back to restaurant list
Fresh Basil
1020 Riverfront Center
Amsterdam, NY 12010
Order Minimum: $10.00
Delivery Time: 45-60 minutes
Restaurant Description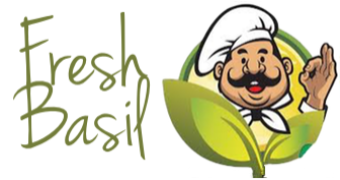 Fresh Basil is located on 1020 Riverfront Center in Amsterdam, NY. Fresh Basil has been serving fresh Pizza and Wings for many years to Amsterdam, NY. Fresh Basil is looking forward to serving you. Give them a try today and see what all the buzz is about.

Fresh Basil offers American, BBQ, Burgers, Greek, Italian, Pasta, Pizza, Salads, Sandwiches, Seafood, Steak, Subs, Vegetarian, Wings, Wraps.

ORDER ONLINE right here on Mealeo and we'll deliver it right to your door!
Delivery Hours
Mon

11:00am - 8:45pm

Tues

11:00am - 8:45pm

Wed

11:00am - 8:45pm

Thurs

11:00am - 9:45pm

Fri

11:00am - 10:45pm

Sat

11:00am - 10:45pm

Sun

12:00pm - 9:00pm
Reviews
great folks.

Scott — 11/17/2018
great folks.

Scott — 11/17/2018
great folks.

Scott — 11/17/2018
always the best

Scott — 9/15/2018
Always the best

Scott — 9/15/2018
they are great!

Scott — 9/8/2018
always the best

Scott — 9/2/2018
always the best

Scott — 9/2/2018
always the best

Scott — 8/29/2018
They are the best!

Scott — 8/25/2018
The are alwayss the best

Scott — 8/19/2018
always the best

Scott — 8/18/2018
always the best

Scott — 8/18/2018
always the best

Scott — 8/7/2018
always our 1st choice

Scott — 8/7/2018
great everytime

Scott — 8/3/2018
They are the best!

Scott — 7/23/2018
Always the best

Scott — 7/21/2018
They are the greatest! Great service~ Great Food!

Scott — 7/14/2018
Best all the time!

Scott — 7/7/2018
They are the best ever!

Scott — 7/6/2018
Always the best

Scott — 7/2/2018
THEY ARE THEY BEST!!!!

Scott — 6/30/2018
Always the best

Scott — 6/27/2018
they are always the best!!!!!!

Scott — 6/23/2018
they are the best

Scott — 6/16/2018
Always the best

Scott — 6/16/2018
always the best

Scott — 6/2/2018
Always the BEST!!!!

Scott — 5/26/2018
Always the best!

Scott — 5/22/2018
Always the best.

Scott — 5/19/2018
They are the best

Scott — 5/12/2018
Always fresh and delicious. Delivery is always on time and very cordial. Thanks guys!

Andrew — 5/3/2018
always the best

Scott — 4/29/2018
Always they best!

Scott — 4/21/2018
they always are the best

Scott — 4/14/2018
always the best!

Scott — 4/7/2018
They are the best!

Scott — 3/31/2018
They are our Favorites!!

Scott — 3/30/2018
best ever

Scott — 3/24/2018
they are the best

Scott — 3/21/2018
they are always the best!!!

Scott — 3/17/2018
Always great

Scott — 3/15/2018
They are always our Sat meal!! They are they best!!

Scott — 3/10/2018
Always the best...

Scott — 3/3/2018
They are always the best. Every time!

Scott — 3/2/2018
Always the best!

Scott — 2/24/2018
They are always the best!

Scott — 2/17/2018
They are always the best!

Scott — 2/10/2018
Always the best food!

Scott — 2/8/2018
They are always the best!

Scott — 2/3/2018
They are they best

Scott — 1/28/2018
always the best!!!

Scott — 1/27/2018
They are always the best

Scott — 1/20/2018
Always the Best!

Scott — 1/19/2018
Always great

Scott — 1/13/2018
They are always the best

Scott — 1/10/2018
Always the best!

Scott — 1/6/2018
Always the best!

Scott — 12/30/2017
Always the best!

Scott — 12/26/2017
Always the best!

Scott — 12/23/2017
Always the best

Scott — 12/16/2017
always great!!

Scott — 12/14/2017
Always great.

Scott — 12/12/2017
Always the best!!!

Scott — 12/9/2017
always great

Scott — 12/2/2017
always great

Scott — 11/25/2017
always great

Scott — 11/18/2017
always great

Scott — 11/11/2017
always great

Scott — 11/4/2017
always great

Scott — 11/4/2017
always great

Scott — 10/21/2017
always great

Scott — 10/21/2017
always great!!

Scott — 9/30/2017
always great..

Scott — 9/23/2017
always best...

Scott — 9/16/2017
Always great!!

Scott — 9/9/2017
Always great food.

Scott — 9/9/2017
always great

Scott — 8/26/2017
great always.

Scott — 8/26/2017
great service

Scott — 8/26/2017
always great

Scott — 8/5/2017
Always great!

Scott — 7/29/2017
Thanks!

Scott — 7/22/2017
Thanks

Scott — 7/22/2017
Always great!

Scott — 7/8/2017
Always great!

Scott — 7/8/2017
Always great!

Scott — 7/8/2017
Always great!

Scott — 7/8/2017
great food great people

Scott — 6/10/2017
great food great people

Scott — 6/10/2017
Great food..

Scott — 5/27/2017
Great food

Scott — 5/27/2017
Fast service, excellent food!

Amanda — 5/19/2017
Great food, Great people

Scott — 5/18/2017
Great Place!

Scott — 5/13/2017
Always great food.

Scott — 5/6/2017
Great Food. Great staff!

Scott — 4/29/2017
best burger ever. Great delivery!

Scott — 4/29/2017
Great food and service

chris — 4/19/2017
The food is the best. Order ever weekend!

Scott — 4/15/2017
Very good food. Fast delivery. Will definitely order again

Kristy — 10/27/2016
Great pizza thought I died and went too,heaven! Every bite was so darn good! Yummy!!!

Robb — 6/18/2016
Great food as always! TY

Deborah — 5/22/2016
Again no complaints

Stephen — 3/20/2018
excellent

Stephen — 3/20/2018
Quick and easy

Stephen — 2/20/2018
always good

Scott — 10/7/2017
Food was good and was delivered within the time frame that's listed. Site was easy to use.

Patricia — 6/28/2017
Both times I have used mealeo to make an order for a specific time, it was obvious my order was completed too early. Yesterday, I wanted my order ready for 5:30, we arrived at 5:20 expecting to wait...NOPE! Not only was the food already ready, but it had clearly been sitting there for a while because it was cold.They shouldn't have an option for a specific pick up time when they feel they need to have it ready earlier than the customer wants. This has been 2 times now this happened! Annoying!

Marisa — 11/15/2017
pizza had a good taste although it wasnt made the way ordered noy sure wings were either and asked for 2 cokes got a dr pepper

Sherri — 6/30/2017
food got here hot still and my chicken burger wasnt soggy, but the chicken itself was pretty skimpy. Thats my only complaint.

Mary — 12/30/2016
our fault. cold means raw bacon. So please order hot.

Scott — 8/3/2018
This is the third time in a row I've ordered from here and something was forgotten. Two of my three items were forgotten this time. Instead of going back to get them, the delivery driver just gave me money back for the missing items. I ordered them because I'm hungry. Giving me my money back doesn't solve that problem. I will no longer be ordering from them.

Jessica — 4/13/2016
Never again

Scott — 10/6/2018
Never again

Scott — 10/6/2018
Never again

Scott — 10/6/2018
never again last try. Will never order again.

Scott — 10/6/2018