Delivery now available!!!
←Back to restaurant list
Sakura
22 Clifton Country Rd
Clifton Park, NY 12065
(518) 217-2132
Order Minimum: No minimum
Delivery Time: 43-58 minutes
Restaurant Description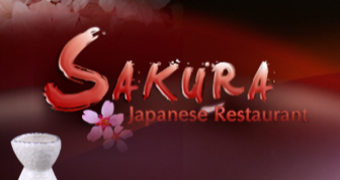 The Area's Most DIVERSE Collection of Japanese Cuisine. Sakura Hibachi steakhouse & sushi bar offers a full bar, dining room seating, and the ever famous hibachi grills. Times Union readers rated it **** and the Times Union Food Review rated it *** - an enjoyable experience for the entire family.

Sakura offers American, Bar/Pub, Bistro, Catering, Chinese, Hibachi, Japanese, Salads, Seafood, Steak, Sushi, Thai, Vegetarian.

ORDER ONLINE right here on Mealeo and we'll deliver it right to your door!
Delivery Hours
Mon

11:00am - 9:30pm

Tues

11:00am - 9:30pm

Wed

11:00am - 9:30pm

Thurs

11:00am - 9:30pm

Fri

11:00am - 9:30pm

Sat

11:00am - 9:30pm

Sun

11:00am - 8:45pm
Reviews
Super fast!

Olivia — 7/26/2016
Love the food here...quick and easy delivery

Jenna — 10/3/2015
Fast delivery, great food. Very happy when I found out Sakura delivers.

Nate — 9/7/2015
Expensive but worth it

Mercedes — 9/6/2015
AMAZING! Delicious food. Full menu. Great delivery speed! Large portions!!

Natalie — 6/11/2013
AMAZING FOOD! Delivery time was within what they said!

Natalie — 3/14/2013
Very good. Prompt 40 Min Delivery at 7pm on a Sunday. Fresh tuna, and salmon.

Sarah — 4/30/2012
No complaints.

Mike — 1/17/2010
Good.

Rosalie — 9/2/2009
Food was delicious! I recommend Sakura.

Rosalie — 7/28/2009
The food was ready when I showed up, packed neatly in a Mealeo bag. California rolls & shrimp tempura rolls were great!

Ryan — 7/19/2009
Food good took over max Amt on time

Mercedes — 6/6/2015
Not good

Ariele — 10 days ago
Terrible. Rolls were lackluster - one being almost totally inedible and the pad thai was awful. This was the last time we order from Sakura.

Chris — 8/20/2013
The five other reviews on Mealeo give Sakura 5 stars, so I felt safe ordering from here. Looking closer, I see that those reviews are all very old. I don't know what has happened since those last reviews, but here is my experience: Briefly, we ordered at 5PM, the order was delivered at 6:45 (!), and I vomited my meal back up at 7:20. Literally. We ordered 6 rolls that ranged from passable to horrible. Several of the rolls left an aftertaste that I have never gotten from sushi before. Several of the rolls were missing ingredients listed in the description. The squid salad had way too much salty dressing on it, completely masking the flavor of the ingredients. And, shortly after I finished eating, I started feeling sick, and ended up not being able to keep it down. As for value, it doesn't need to said that food you can't keep down isn't worth much. But they charge the same or more for their rolls than either Mr. Fuji or Sushi Thai. I can only recommend this restaurant to people who are willing to wait nearly two hours for mediocre-to-bad food that will leave them sick. I wish there was another delivery sushi place in town :-(

Victoria — 1/6/2013