←Back to restaurant list
Veneto's Pizza & Pasta
4 Fire Rd
Clifton Park, NY 12065
Order Minimum: $15.00
Delivery Time: 60-75 minutes
Restaurant Description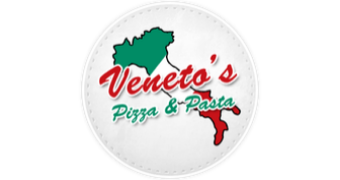 Veneto's Pizza & Pasta is located on 4 Fire Rd in Clifton Park, NY. Veneto's serves fresh, quality ingredients all the time to make sure your food is always tasting the best. Veneto's Pizza and Pasta prides its self on great tasting food and customer satisfaction. Do your belly a favor and try out Veneto's Pizza today!

Veneto's Pizza & Pasta offers American, Burgers, Italian, Pasta, Pizza, Salads, Sandwiches, Seafood, Subs, Vegetarian, Wings, Wraps.

ORDER ONLINE right here on Mealeo and we'll deliver it right to your door!
Delivery Hours
Mon

2:00pm - 9:45pm

Tues

2:00pm - 9:45pm

Wed

2:00pm - 9:45pm

Thurs

2:00pm - 9:45pm

Fri

11:00am - 10:45pm

Sat

11:00am - 10:45pm

Sun

12:00pm - 8:45pm
Reviews
Pizza was delicious and delivery was quick!

Jenna — 8/9/2017
usually pick up from here , first time getting delivered. As always great food. SO surprised by the speed of delivery. Ordered at 5:50 got here by 6:10! SO FAST!!!!!! just for that i'm making this place a favorite

Elizabeth — 3/31/2017
FANTASTIC

Jenna — 2/10/2017
Always fresh and hot.We have had better subs but the rest of the menu is outstanding.

Guy — 7/27/2016
Another awesome order.

Guy — 4/29/2016
So far the food has been excellent and delivered hot and fresh.

Guy — 4/26/2016
Garlic parm wings are excellent - super crunchy. No sauce, just crunch with parm on top with a hint of garlic. Nice big pieces of carrot w/blue cheese to accompany!

Jennifer — 3/7/2016
Fresh and hot.the whole meal was spot on and the delivery person was very nice.

Guy — 3/3/2016
one of the best pizza shops ever!

Tracey — 3/2/2016
Skip the cold subs unless your a bread junkie.Got the roast beef sub and it was nothing more then a slice of roast beef.The rest of Veneto's is spot on.

Guy — 5/9/2017
PIZZA DEALS ARE GREAT!!! FOOD IS TASTY! ONLY DOWNFALL IS ORDERED FOR WHEN I GOT HOME FROM WORK AND PUT A SPECIFIC TIME (5:45 PM) AND THEY SHOWED UP AT 5:30- LUCKILY MY NEIGHBORS GRABBED IT.

Jenna — 2/10/2017
Fast delivery

Kim — 5/5/2016
We have never had a issue till our latest order.The onion rings were over cooked and the eggplant Parma sub bread was stale.Either poor training or to busy.

Guy — 3/17/2017
Roommate likes Stromboli but said 2 little cups of sauce should be included. Roomate gives 3 stars. I ordered a Philly cheesesteak. I didn't know what kind of cheese they used and I like American. I was going to split it with my roommate but I can't eat onions so when I put the order through I in the special notes section "American cheese. Peppers and onions on the side. No mushrooms." What I got was toasted bread with cooked steakums, on the side cold onions and peppers mixed together and there was two slices of cheese on top of the onion & peppers. They should have called me. I wanted the cheese cooked with the steakums, I wanted the onions and peppers cooked and on the side, who eats raw onions and peppers. I was going to pick out the onions because roommate likes onions. I'm very disappointed. It doesn't taste horrible but....it wasn't great. My chicken parm sandwich it's kind of soggy and it's too saucy. I like chicken Parm breaded and crispy. I'm disappointed. I give it one star. I averaged my roommates 3 stars with my 1 start.

Tara — 12/4/2017
Ordered off the menu, no special instructions. They didn't have the food to complete the order, took 90 MINUTES to arrive, cold and disgusting. Sun at 3pm, so not exactly rush hour. Chicken was over-cooked and cold, Hot sauce was mild, at best, Pizza cold with an elastic crust and $45 for cold pizza, chicken fingers and frozen poppers? DO NOT ORDER FROM VENETO'S

TS — 6/10/2018
Order took 2:40 (yes, 2 hours 40 minutes) and three follow up phone calls to get our food. We were told we would not be charged, but we were. Food was good but not worth the headache. Other orders from this place have been great, but this one really was beyond the pale.

Amy — 7/28/2016
Placed order at 723pm. Called the store at 9 and was told it was on its way. Called again at 945 and no one answered. Ate some random stuff around the house and started getting ready for bed. Pizza arrived sometime after, no explanation or apology. It was very hot so obviously wasn't on its way at 9pm when we called. Having reheated it this afternoon for lunch was decent.

Richard — 3/12/2016