←Back to restaurant list
Dom's Pizza
1099 New Loudon Rd
Cohoes, NY 12047
Order Minimum: $10.00
Delivery Time: 45-60 minutes
Restaurant Description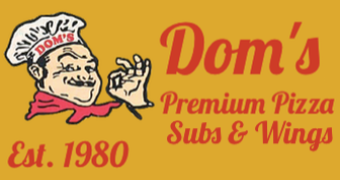 Dom's premium pizza, subs & wings is one of the capital region's best kept secrets. Let's put it this way, if you're looking for fresh - Dom's has it. Looking for hot pizza? Dom's has it. Looking for crispy wings? Dom's has it. Come check out the menu - and enjoy!

Dom's Pizza offers American, Bar/Pub, Burgers, Catering, Italian, Pasta, Pizza, Salads, Sandwiches, Seafood, Subs, Vegan, Vegetarian, Wings, Wraps.

ORDER ONLINE right here on Mealeo and we'll deliver it right to your door!
Delivery Hours
Mon

11:00am - 10:00pm

Tues

11:00am - 10:00pm

Wed

11:00am - 10:00pm

Thurs

11:00am - 10:30pm

Fri

11:00am - 10:30pm

Sat

11:00am - 10:30pm

Sun

11:30am - 9:30pm
Reviews
SO SO GOOD! I'm (weirdly) not a big fan of pizza, but had a craving for a supreme pizza. BEST PIZZA I'VE EVER HAD! The crust is amazinggggggg also!! YUM YUM YUM!

Kelcie — 2/18/2018
excellent

Patrick — 1/4/2018
excellent as always

Patrick — 12/25/2017
Best pizza in Albany no doubt.

Rebecca — 9/29/2017
Fresh rolls. That made it delicious.

Neil — 6/10/2017
best pizza in the 518. friendly staff, great delivery!

Vincent — 4/21/2016
excellent as always

amber — 2/7/2015
amazing as always

amber — 11/17/2014
Great pizza. Great service.

Kenneth — 3/12/2014
Food was fantastic, hot and got to me very quickly. The delivery guy was a total sweetheart and represents his business well! Would certainly recommend ordering from Dom's, esp their meatballs which were delicious!

Nicole — 6/29/2013
Very good! A little mix up with order/address and it was still here under an hour and still hot! Mistakes will happen everywhere and its all about how they are handled. Extremely nice staff and was given a free credit.

Sarah — 4/30/2012
I :] Dom's Pizza. So good.

Blake — 2/28/2012
Dom's is pretty solid. Relatively fast delivery as well.

Scott — 2/16/2012
Ready at pickup time, calzone was really good.

Scott — 10/27/2011
Good pizza, quick delivery too.

Blake — 9/19/2011
Fast service, Delicious pizza

Scott — 8/28/2011
it was good

amber — 3/30/2015
I used to love Dom's, but the pizza seems to be getting worse the worse over the years. Less and less cheese and sauce. Seems to be over cooked more often.

Lynne — 10/12/2015
Food was alright, but not amazing. And they forgot to give us some of our order

Sarah — 3/9/2013
Ordered a white garlic pizza. Was just a pizza with a faint taste of tomato sauce and no garlic whatsoever. Very disappointing. Have had good ones from Dom's before.

Neil — 6/16/2018
Pizza was great, but side of hot sauce was charged for and not included in box.

Timothy — 4/27/2016
Pizza was overcooked, charred, and cold. Delivery time was just under two hours. Would give it a 1/4 star if possible.

Neil — 30 days ago
One star because it took 2 hours from the time I ordered until the delivery was made. This is not acceptable.

Victoria — 4/21/2015
Was charged for this. Never received. Order was cancelled.

Aimee — 7/8/2013