←Back to restaurant list
Buffalo Wagon Asian
6 Metro Park Rd
Colonie, NY 12205
Order Minimum: $15.00
Delivery Time: 45-60 minutes
Restaurant Description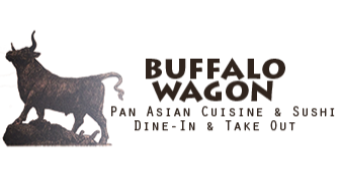 At Buffalo Wagon you experience Pan-Asian Cuisine at its finest. We have a very relaxed atmosphere to dine-in or carry out. Our menu features over 100 items from Cantonese, Japanese, Sushi, Thai, and Malaysian curry dishes.

Buffalo Wagon Asian offers Asian, Bar/Pub, Catering, Chinese, Japanese, Noodle Shop, Salads, Seafood, Sushi, Thai, Vegan, Vegetarian.

ORDER ONLINE right here on Mealeo and we'll deliver it right to your door!
Delivery Hours
Mon

Closed

Tues

11:00am - 9:30pm

Wed

11:00am - 9:30pm

Thurs

11:00am - 9:30pm

Fri

11:00am - 10:30pm

Sat

11:00am - 10:30pm

Sun

11:00am - 9:30pm
Reviews
Very friendly and professional! Look forward to ordering from again in the near future!

Sean — 7/31/2018
Great food ! Best in town

Gina — 12/31/2017
My only issue is that they sent Cuccumber rolls instead of the California Rolls (it was on the receipt) that I ordered. Otherwise, I love their food.

Gay — 12/11/2017
yum!

Michael — 9/30/2017
Excellent food and prompt service as always!

Peter — 6/17/2017
Excellent food

Nancy — 5/9/2017
Very good Chinese food and on time delivery

Nancy — 5/9/2017
Amazing food; incredible Peking Duck and Sesame Chicken; the best I've ever had. Also, extremely professional and friendly as well. Can't wait to order again soon!

Sean — 4/11/2017
The food is always excellent. Super fast delivery.

Mark — 2/21/2017
The food is always delicious and the service is quick. Everyone that works here is really nice as well. Would definitely recommend to anyone looking to try it out.

Julia — 12/16/2016
Their General Tso's chicken is the best in the Capital Region

Ludmila — 7/21/2016
Excellent, as usual. Very happy with the service from Buffalo Wagon. :)

Heimdall — 7/21/2016
Food in consistently fresh and delicious. Large portions as well, highly recommended.

Ron — 6/28/2016
On time. Hot & delicious.

Julie — 2/13/2016
The General Tso's Chicken was by far the best Chinese food I have ever had!

Alicia — 1/20/2016
They delivered faster on Christmas eve than most restaurants do on ordinary days, AND the driver apologized for the wait. Plus, great food. Good balance between meat and vegetables in the Cantonese meat entrees.

James — 12/24/2015
Food came quickly and it was very good as always!

Emma — 12/10/2015
Very nice people with excellent service and very good food!

Julio — 10/10/2015
Everything is always very will prepared and authentic! Very nice service and happy delivery staff

Samantha — 10/9/2015
Great food, fast delivery.

Brian — 8/20/2015
Wonderful, Favorite Sushi Place.

Sarah — 7/10/2015
Everything always tastes great. Sometimes they are a little slow on delivery, but the quality of the food makes up for it.

Samantha — 3/25/2015
Great food fresh ingredients reasonable prices definitely will eat here again soon.

Adam — 11/6/2014
Yummy food and fast delivery! Thanks!

Jennifer — 10/29/2014
THE best chinese food in the Capital Region! Fresh, tasty, and plentiful every time!

Jill — 9/28/2014
Good food & quick delivery.

Eli — 8/30/2014
speedy service and yummy food!

Elizabeth — 7/10/2014
great food

REBECCA — 5/23/2014
Buffalo Wagon is the Greatest!

bryan — 3/23/2014
Perfect! Food was hot and ready to go when we arrived to pick it up.

SARAH — 12/5/2013
I love this place. I order sushi all the time from there... but when we eat there I LOVE the sesame chicken -- some of the best around!

Isaiah — 8/25/2013
Great food great service!

Shannon — 7/27/2013
great food! came right at the time that i ordered it for!

Debbie — 6/26/2013
DELICIOUS!

REBECCA — 5/25/2013
DELICIOUS!

REBECCA — 5/25/2013
DELICIOUS!

REBECCA — 5/25/2013
DELICIOUS!

REBECCA — 5/25/2013
DELICIOUS!

REBECCA — 5/25/2013
DELICIOUS!

REBECCA — 5/25/2013
DELICIOUS!

REBECCA — 5/25/2013
DELICIOUS!

REBECCA — 5/25/2013
DELICIOUS!

REBECCA — 5/25/2013
THE best chinese food in the area. The dumplings are so good that they're addictive! (can actually taste the pork in the dumplings) The chicken really is white meat! Everything is fresh and well presented (delivery or eat in).

Jill — 3/16/2013
As always, you can't go wrong with Buffalo Wagon. It is our favorite in the area with the freshest veggies and never leaves you with a "Chinese Food Hangover." Recommend the chicken and broccoli, string beans, or their lo mein!

Keith — 12/15/2012
Fresh and Delicious!

C — 10/10/2012
LOVE their food! Dumplings are addictive!

Jill — 8/11/2012
Awesome!

REBECCA — 5/21/2012
Awesome!

REBECCA — 5/21/2012
great thanks!

REBECCA — 4/30/2012
great thanks!

REBECCA — 4/30/2012
AWESOME! THANKS!

REBECCA — 2/22/2012
GREAT!

REBECCA — 2/22/2012
GREAT!

REBECCA — 2/22/2012
GREAT!

REBECCA — 2/22/2012
GREAT!

REBECCA — 2/22/2012
Although they did not see our order right away the take out we ordered was delicious! The best Chinese we have had in a long time in this area.

Julie — 11/10/2011
yummy!! :-)

REBECCA — 9/28/2011
Wonderful as always!

Elisa — 9/16/2011
Food was great. They delivered to my place even though it was too far and mealeo did not stop me from ordering.

Mohendra — 4/29/2011
they rock!

John — 2/18/2011
fresh and delicious.

Tara — 1/30/2011
The chicken and broccoli as amazing!

Zachary — 1/14/2011
lights out, love this place!

Jamie — 12/20/2010
I have trouble staying away from the General Tso's Chicken --- in my opinion it's one of the top 2 Tso's chicken in the cap region.

Blake — 9/2/2010
Quick delivery (around 45 minutes). Their website says delivery within a 3 mile radius but Mealeo listed me as 5.8 miles (not sure whether that's driving distance or not), but anyways, they still delivered to my apartment (for free). The food was really fresh (spring rolls were crispy, not soggy, chicken and rice were very fresh). They provided utensils, napkins, condiments, fortune cookie, and takeout menu in a little "kit" in the takeout bag - especially helpful since I've just moved into my apartment and have no appliances, kitchen supplies, etc. left. I was dreading getting something cold and having no way to reheat it but the food was really hot, which was great. Really enjoyed everything (and for a little over $20 I got at least 2 meals out of the food they tave me).

Emily — 7/27/2010
Very good. Quick delivery.

Cynthia — 7/23/2010
The General Tso's chicken is fantastic. Very friendly delivery guy.

Zachary — 7/22/2010
I LOVE Buffalo Wagon! They are so nice and are very timely with your orders! Best fried rice I have ever had!

Alexandra — 6/28/2010
really delicious food with friendly service. too bad they're so hidden on metro park road but hope they can stay in business!

Rebecca — 5/14/2010
I just discovered Buffalo Wagon, and I'm happy that I did. Their General Tsao's Chix was great - and they are really friendly too.

Jamie — 4/16/2010
Great Food, Great Price and SO QUICK!!!

ERin — 3/15/2010
This place is GREAT and I never even knew they existed. Great General Tsao's chicken, great everything actually.

James T. — 2/4/2010
Very tasty

Nora — 4/15/2018
Good food!!!

Abigail — 3/16/2018
The moo shoo vegetables were tasty, but the saute sauce was different that what I've had over the years. It made the veggies soggy and tasted like peanuts. This isn't what we expected. The other two veggie items were fine.

Julie — 9/26/2017
Food is always very good

Nancy — 6/19/2017
Asked for cucumber in my salmon and cra cheese roll but got something else. Other than that delicious as always

Taralyn — 4/22/2017
I love buffalo Wagon! The best sushi and Asian food around!

Rob — 1/21/2016
Good, but not as good as last time.

Chris — 8/15/2011
FOOD IS TERRIFIC!! HIGHLY RECOMMENDED!

Amanda — 3/6/2011
Delivery took well over 1 hour. But the food is fantastic.

Zachary — 8/21/2010
Food arrived late and cold. First time I've had a bad experience with Buffalo wagon.

Eileen — 2/10/2015
Food wasn't bad, didn't blow me away though. Accurate order, took a long time but the delivery guy was professional.

Gary — 7/6/2014
Giving three stars for the speed of delivery. However, the food tasted burned, and the quality was not there.... Considering how expensive the meal was, I had very high expectations. Very disappointed.

Jolie — 1/29/2013
They delivered the food an hour and a half too early, and when I tried to explain that to the delivery driver, he did not understand a word I said.

Chris — 8/15/2011
Won't be ordering again!

Pat — 7/26/2018
was really disappointed in the food this time. usually it tastes fresh and spicy...this was not

Marian — 9/16/2017
I did not receive my beef with broccoli, but something else with beef and a lot of vegetables and the pork fried rice was tasteless.

Rebecca — 12/5/2014
Ordered teriyaki beef-medium, got rare. Inedible. Otherwise, good as usual.

Wit — 11/6/2013
Order took a long time 1.5+ hr and was incorrect. Chicken fried rice was Pork and extra spice was added.

Katy — 8/5/2018
Very disappointed, ordered chicken lettuce wraps for the second time because I really enjoyed them the first time. When delivered there was no sauce for the wraps as there was last time and when I called, they told me no sauce comes with it... I explained to the guy that I had sauce the first time, and he said I must have ordered a sauce with it... I didn't order any extra sauce and it it clear in my order history. The lettuce wraps are horrible without the mystery sauce I had last time... my lunch is ruined!!!

Mellissa — 10/5/2016
NEVER ORDER TEMPURA FROM BUFFALO WAGON. I usually order a lot from this restaurant but tempura came so wet and gross that i threw all of them away. it is common sense to keep tempura dry, and the case was wet with moisture. Wasted my money

Scott — 4/30/2016
Terrible under cooked dumplings. Padthai was literally the worst i have ever had. First and last time I order from here.

Heather — 2/27/2014
DO NOT ORDER FROM HERE!!!!! ORDERED $85.00 WORTH OF FOOD AND IT WAS NEVER DELIVERED AND THERE WAS NO WORKING PHONE NUMBER!!!!!! DO NOT ORDER FROM HERE!!!!

Richard — 2/9/2013