←Back to restaurant list
Bua Thai Sushi
1103 EllsWorth Blvd
Malta, NY 12020
Order Minimum: $30.00
Delivery Time: 45-60 minutes
Restaurant Description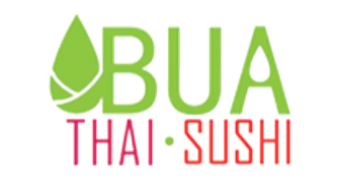 Bua Thai Sushi is located on 1103 EllsWorth Blvd in Malta, NY. Bua Thai Sushi is a rare breed. It's serves top quality Thai dishes like Red and Green Curry or mix it up with some hot sushi rolls like the Dynamite and Crazy rolls. This place is creating major buzz in the Malta, NY area and it's time for you to give it a try.

Bua Thai Sushi offers Asian, Japanese, Seafood, Steak, Sushi, Thai, Vegan, Vegetarian, Wings.

ORDER ONLINE right here on Mealeo and we'll deliver it right to your door!
Delivery Hours
Mon

5:00pm - 8:30pm

Tues

5:00pm - 8:30pm

Wed

5:00pm - 8:30pm

Thurs

5:00pm - 8:30pm

Fri

5:00pm - 8:30pm

Sat

5:00pm - 8:30pm

Sun

Closed
Reviews
Always amazing!!!

Leo — 3/9/2018
Always AWESOME!!!!!

Leo — 2/14/2018
Food is always great. Staff is always super friendly!

Leo — 2/8/2018
Amazing place! Awesome food! Super GREAT service!!!

Leo — 12/8/2017
Wonderful food and veg options too. Friendly and amazing folks that work there. Exactly what the area needed. Highly recommend! Thanks for keeping all of us full and happy at Vitaleats.com !

Reuben — 10/13/2017
Very quick, well made.

Eric — 8/25/2017
excellent delivery and service

Eric — 6/7/2017
always delicious and very fast delivery!

GRACE — 1/11/2017
Amazing staff and food!!

Jennifer — 12/12/2016
Great restaurant one of our favorite local spots!! Nice online order option

Lindsey — 12/6/2016
Good food and love being able to order on line.

Rosemary — 3/26/2016
Delicious sushi every time.

Trysha — 3/11/2016
It's exciting that they actually deliver, which is definitely something Malta needs more of. But the food was under-spiced, my veggies were so overcooked they were wilted, and my Rama Garden meal was basically a watery peanut soup with soggy veggies. The tempura was also undercooked (the larger sweet potato pieces.) Sushi Thai in Saratoga has basically an identical menu but it's way better quality than Bua.

Rachel — 3/4/2018