←Back to restaurant list
Pizza 7
7 Caroline St
Saratoga Springs, NY 12866
(518) 213-2084
Order Minimum: $15.00
Delivery Time: 45-60 minutes
Restaurant Description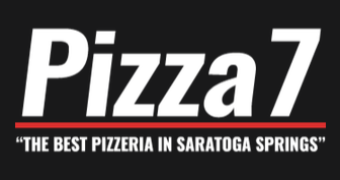 Pizza 7 serves up delicious and hearty Italian/American dishes. They have a wide variety of gourmet pizzas, thin crust pizza, fresh salads, pasta dishes, hot/cold subs, wraps, gyros and appetizers. Pizza 7 is open late, to satisfy your hunger all around the clock. Biggest selection of the pizza by the slice. Have a delicious meal delivered to your door. Has catering menu available.

Pizza 7 offers American, Burgers, Cakes, Calzones, Catering, Cheesesteaks, Dinner, Fast Food, Greek, Gyros, Hamburgers, Italian, Lunch, Mediterranean, Pasta, Pizza, Salads, Sandwiches, Subs, Vegetarian, Wings, Wraps.

ORDER ONLINE right here on Mealeo and we'll deliver it right to your door!
Delivery Hours
Mon

11:00am - 12:45am

Tues

11:00am - 11:45pm

Wed

11:00am - 12:45am

Thurs

11:00am - 1:45am

Fri

11:00am - 2:45am

Sat

11:00am - 2:45am

Sun

11:00am - 10:45pm
Reviews
Fast service, friendly driver (who found my house! No one ever finds my house without calling) food hit the spot after a long night :D

Jacqueline — 22 days ago
I take back anything i ever said bad about pizza 7... their new menu is amazing and their burgers are to die for...

Krys — 6/23/2015
I need to smack my momma, this food is awesome!!!

Jeremiah — 5/26/2014
Always fast, always fresh and delicious! What's not to like? Give them a try!

Kathleen — 8/19/2013
Love the boneless wings. Speedy delivery. Pizza is good, especially for the price!

Andrew — 5/9/2013
your food was to die for!!!!! excellent!!! would love to order again but the driver complained that it took him 15 minutes to get to my house ...he seemed pretty pissed.....oh well.....GREAT FOOD tho.....

kathleen — 2/8/2013
Great service!

Leigh — 11/25/2012
Food was good.. Delivery time was pretty good. Got wings, chef salad and choc. cheese cake.. I would order that all again.

Tony — 6/17/2014
Salads - A+! Pizza - B+ Falafel - A Pasta (alfredo) - F

Olga — 8/16/2012
The last two times times I ordered from this restaurant, the delivery time was longer than the anticipated delivery time. The order was also incorrect both times. I received a red pizza instead of a white pizza the first time, and ingredients were missing the second time.

Nicole — 6/5/2018
Not sure they know what boneless wings are. Chicken strips cut up with zero breading and swimming in sauce. Will not be ordering again.

Tanya — 12/29/2017
Not very good... not worth the wait... probably better when your drunk late at night and nothing else is open

Krys — 3/12/2015
the pizza was good and i love the drawing. but i wanted no cheese on the pizza

Brandon — 2/3/2014
never received my order. never received a refund.

Amanda — 10/26/2018
New Items on the menu posted 7hrs ago so I figured I'd try something new. Do not recommend getting a burger. It was terrible and totally not the way I ordered it. I ordered a regular cheeseburger Lettuce, Tomato, Onion, Ketchup, Mayo & American Cheese with bacon and grilled mushrooms. What I got was a soggy bun greasy double cheeseburger with mushrooms and bacon bits. The meat was red it wasn't cooked thru. DISGUSTING!!!

Audra — 6/12/2015
for the second time i ordered, and paid for, a drink and did not receive one when the order was delivered. the food was excellent, but its disappointing that parts of my order repeatedly get left out.

Amanda — 3/2/2015
called 90 mins later and they didnt get the order.

drew — 3/16/2014
Our food arrived more than two hours late, which is unacceptable. At least our food came, eventually, but I was extremely frustrated. Also, the food was cold by the time it finally got to us, which ruined my experience with Pizza 7 even more. I won't be ordering from them again.

Sonya — 12/13/2013