←Back to restaurant list
Sushi Thai Garden
44-46 Phila St
Saratoga Springs, NY 12866
(518) 213-4377
Order Minimum: $12.00
Delivery Time: 45-60 minutes
Restaurant Description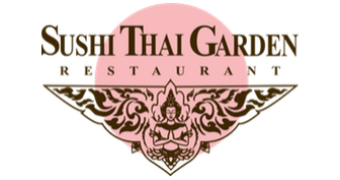 The Sushi Thai Garden features artistic presentations of Japanese and Thai cuisine prepared with all fresh ingredients. And NOW, you can ORDER ONLINE! This dining experience in friendly clean surroundings is one that satisfied even the hardiest appetites. Both locations are open for lunch and dinner with take out and gift certificates available.

Sushi Thai Garden offers Asian, Chinese, Dinner, Japanese, Lunch, Mandarin, Noodle Shop, Noodles, Salads, Seafood, Soup, Steak, Sushi, Thai, Vegetarian.

ORDER ONLINE right here on Mealeo and we'll deliver it right to your door!
Delivery Hours
Mon

11:45am - 8:30pm

Tues

11:45am - 8:30pm

Wed

11:45am - 8:30pm

Thurs

11:45am - 8:30pm

Fri

11:45am - 8:30pm

Sat

11:45am - 8:30pm

Sun

11:45am - 8:30pm
Reviews
Great food. Quick and friendly delivery! Awesome that they deliver.

Emily — 12/23/2018
Thank you!

Annie — 9/1/2018
The duck and the Pad Thai were delicious and the delivery was fairly quick.

Colby — 5/6/2018
Very good food and the wait wasn't bad either.

Colby — 5/6/2018
Prompt delivery, good food, courteous driver.

Pamela — 4/15/2018
Prompt delivery, good food, courteous driver.

Pamela — 4/15/2018
Prompt delivery, good food, courteous driver.

Pamela — 4/15/2018
Prompt delivery, good food, courteous driver.

Pamela — 4/15/2018
Prompt delivery, good food, courteous driver.

Pamela — 4/15/2018
Fast delivery, friendly, and very good Pad See Ew!

Gary — 4/4/2018
Good food, fast and courteous delivery.

Pamela — 3/13/2018
Prompt delivery from a courteous delivery person. Food yummy!

Pamela — 3/13/2018
Prompt delivery, courteous driver, and great food!

Pamela — 2/18/2018
So good!

Jessica — 2/18/2018
Prompt delivery of delicious meal!

Pamela — 2/14/2018
Great food!

Danielle — 12/7/2017
Sushi Thai Garden is the BEST! The Pad Thai, Green Salad and French Roll are my faves.

Maria — 12/3/2017
Consistently high quality. My go-to for sushi.

Kassondra — 10/6/2017
Best sushi, as always!!!

Kassondra — 10/6/2017
always great

Maegan — 7/27/2017
Food is always delicious and delivery is always on time! Will order again. Thank you!

Emily — 6/15/2017
They always provide excellent service and have amazing food.

Delia — 2/11/2017
Great vegetable fried rice!!

Isabella — 2/4/2017
It's always a win when you order from Sushi Thai Garden. The food was delivered quickly, special requests were taken care of, the food was delicious, as always, and steaming hot despite being a delivery. Will definitely order from this restaurant again.

Sandra — 11/30/2016
Always delicious! The pad thai is amazing!!

Elyse — 7/15/2016
easy to use.-Still wished I could've called in.

Eileen — 6/24/2016
Their Tanzana roll is my favorite!

Sara — 1/22/2016
Prompt delivery, delicious food!

Aldo — 1/21/2016
Yum-tasttic!

Kevin — 4/17/2015
!

Julia — 9/29/2011
Food was excellent as always. Delivery was much quicker than anticipated; about 25 minutes as opposed to the expected 45.

Janelle Roys — 2/8/2011
Delicious. The food was ready as soon as I got there, and was a medly of flavors when I ate it.

patricia — 7/30/2010
Great food, fantastic quick delivery.

Deborah — 26 days ago
Ordering was simple and clear; food was nearly ready when we arrived (just a short wait for the sushi) and my special instructions to put all the sushi together on a platter were followed perfectly--we had a beautiful platter to share.

Vicki — 4/21/2012
This was a pleasant change from take out Chinese. We particularly liked the Luck Samee Long Song and Chicken Katsu. Unfortunately, they forgot to put the Jasmine Rice we ordered in the delivery bag.

Lori — 4/19/2012
The order was delivered promptly and accurately.

James — 2/17/2011
Tasty and timely. Will order again.

Madeleine — 12/5/2010
They have good food but I'd rather take the food to go.

Colin — 7/18/2010
Food is great! The delivery time was longer than estimated and I should get a discount next time I order!

Mary — 3/5/2017
Food arrived over an hour after the estimated delivery time. Repeated attempts to call the restaurant to check on the status of the meal went unanswered.

Whitney — 24 hours ago