←Back to restaurant list
Luca's
547 Nott St
Schenectady, NY 12308
Order Minimum: $15.00
Delivery Time: 75-90 minutes
Restaurant Description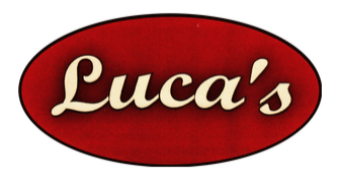 Great Food, Great Owners, Great Restaurant! News is spreading and Lucas is the buzz of the town. Fill your belling with great food and quick service. Located on 547 Nott St, Schenectady, NY. Order now for Pickup or Delivery!

Luca's offers American, Bar/Pub, BBQ, Burgers, Cakes, Catering, Greek, Italian, Pasta, Pizza, Salads, Sandwiches, Seafood, Steak, Wings, Wraps.

ORDER ONLINE right here on Mealeo and we'll deliver it right to your door!
Delivery Hours
Mon

4:00pm - 9:00pm

Tues

11:00am - 9:00pm

Wed

11:00am - 9:00pm

Thurs

11:00am - 9:00pm

Fri

11:00am - 10:00pm

Sat

11:00am - 10:00pm

Sun

Closed
Reviews
This is my favorite restaurant in Schenectady. Their food is always delicious!

Jessica — 6 days ago
Best Calzone ever!

Ryan — 11/30/2018
One of if not the best food in Schenectady!

Ryan — 11/30/2018
Always huge portions at a good price and delivered on time.

Ryan — 11/30/2018
Eat there every Saturday if we can

Linda — 9/1/2018
easy to use

Sue — 6/1/2018
never dissapointed

Dralph — 5/13/2018
Great food and service!! Always consistent!

Deborah — 5/1/2018
N/A

Jon — 2/10/2018
Delicious food as always!!!

Barbara — 1/6/2018
This place is a hidden gem in Schenectady! Great food!

Nick — 7/18/2017
Our first order from Luca's and we were very impressed. It arrived within the promised time frame, everything was hot (the soup was piping!), nothing was mushy, and every dish tasted amazing. We will definitely be back - and recommend it to others!

Jessica — 9/1/2016
Food was hot and delivered quickly and very good

Esther — 6/1/2016
Ordered delivery to the hospital for my wife and I. Stuffed cheeseburger was super. Deep fried pickles were great and the berry dipping sauce was even better. Topped off w a pulled pork and Mac-n-Cheese pizza. Thx.

Guy — 12/19/2018
Asked for Feta on burger, no cheese at all :(

Sarah — 12/14/2018