←Back to restaurant list
Paulie's Pizza
409 Rosa Rd
Schenectady, NY 12308
Order Minimum: $10.00
Delivery Time: 45-60 minutes
Restaurant Description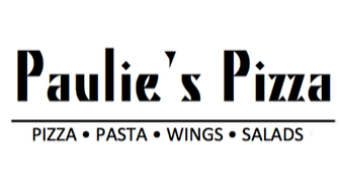 Paulie's Pizza is a family owned and operated pizzeria located in Schenectady, NY. We make authentic Italian Pizza the way it should be, using only the finest ingredients! Paulie's Pizza serves you with a wide range of food, like subs, sandwiches, pasta, pizza and dessert!

Paulie's Pizza offers American, Burgers, Catering, Italian, Pasta, Pizza, Salads, Sandwiches, Subs, Wings, Wraps.

ORDER ONLINE right here on Mealeo and we'll deliver it right to your door!
Delivery Hours
Mon

Closed

Tues

11:30am - 8:30pm

Wed

11:30am - 8:30pm

Thurs

11:30am - 8:30pm

Fri

11:30am - 9:00pm

Sat

11:30am - 9:00pm

Sun

12:00pm - 7:30pm
Reviews
Loved their pizza!

Chandra — 9/4/2018
We LOVE Paulies Pizza - the food is spectacular and always fresh and done perfectly. It is the BEST in Schenectady.

Linda — 9/2/2018
Excellent tasting, fresh ingredients. I've had just about everything on the menu, and never a bad experience.

Robert — 8/7/2018
Paulies pizza gets better and better! Delicious!!

Jaime — 7/7/2018
Paulie's is the BEST and the food is always absolutely delicious. Paulie's is our favorite place and we have never been disappointed. Great job, Paulie's - we love you.

Linda — 7/1/2018
delicious and nice delivery guy

Samantha — 11/10/2017
Awesome Pizza and Great Delivery Service.

Tracy — 10/25/2017
Delicious pizzza. Will order from here again

Kathy — 8/22/2017
Paulies Pizza has the BEST gluten free pizza around! The staff is always nice and the food is always good!

Kevin — 7/23/2017
We have ordered many times from Paulie's and have never been disappointed. Everything we've tried and ordered has been outstanding and so delicious. Thank you, Paulie's, for a great job and all of your delicious food. We appreciate it. Linda Sendzicki

Linda or leonard — 7/3/2017
I've ordered from Paulie's several times now. One of the first times, my order had a problem and was delivered very late. Paulie was very apologetic and was very professional. I'm glad I stuck with them. Their food is delish. Their subs, sandwiches, burgers are fantastic and I will continue to order from them as they produce quality foods!

Travis — 5/24/2017
On time, hot, and delicious. Perfectly cooked wings and pizza.

Terry — 11/25/2016
Great place to order from. I've ordered several times and is well worth it!

Travis — 10/13/2016
garllic knots are out of this world. honey bar-b-que wings are great.

Gr — 10/10/2016
Delicious pizza, the best I have had! FAST delivery.

Karen — 6/13/2016
Food was ready and hot. Even the staff helped by carrying food out to my car. I was very happy!

Tracy — 5/20/2016
Have only ordered pizza, but it is excellent!

Kevin — 5/18/2016
Prompt delivery and good food.

Rachel — 4/3/2016
Excellent as always.Delivery on time.

Terry — 2/7/2016
I ordered a italian mix and chicken cordon bleu sub and both were very good

Michelle — 10/13/2017
Awesome food and service.

Michelle — 10/13/2017
I really like the food at Paulie's! One small quip: We ordered an eggplant parm dinner and received an eggplant parm sub. Not a huge deal but my wife was looking forward to the dinner.

Michael — 9/2/2017
Really good pizza, quick delivery.

mike — 5/29/2016
Fried dough was really pieces of pizza fritte. Was ok but eouldnt order it agsin. Had the supreme pizza which was delicious. Generous toppings on a 6 slice. I ordred an American mixed wrap. Unfortunately the roast beef on the sub was going bad.Had to discard after a few bites rather than risk food poisoning. Thd wrap had generous amount of 3 meats.The lettuce was a sheet rather than chppoed.The american cheese wssnt a high quality cheese...more like the plastic wrapped pieces you buy. I guess they're best at pizza.

Kathy — 1/6/2018
Food was good, but I ordered/paid for a chicken parm pasta, and got a sub instead, which was a bummer.

Laura — 9/4/2018
supposed to be ready around 6:16, was ready closer to 6:40. i was barely acknowledged, don't even think they started my order until I got there. apparently ordering online gets no attention.will never use meleo or order from paulie's ever again. I could have just showed up and gotten the order just as fast. I hate it when businesses misuse technology.

robert — 10/13/2018
Paulie's Pizza is not accepting online orders at this time.