←Back to restaurant list
LaBella Pizza (Waterford)
72 Broad St
Waterford, NY 12188
Order Minimum: $10.00
Delivery Time: 45-60 minutes
Restaurant Description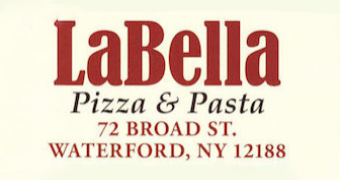 We at LaBella Pizza & Pasta in Waterford, NY would like to thank you for your support. We only use the best Wisconsin cheese and our dough is made fresh on the premises daily. For our sauce, we use only fresh, whole plum tomatoes and the best spices available. We work hard to meet your needs and wants. You can order online for pickup and delivery.

LaBella Pizza (Waterford) offers American, Catering, Italian, Pasta, Pizza, Salads, Subs, Wings.

ORDER ONLINE right here on Mealeo and we'll deliver it right to your door!
Delivery Hours
Mon

11:00am - 9:30pm

Tues

11:00am - 9:30pm

Wed

11:00am - 9:30pm

Thurs

11:00am - 9:30pm

Fri

11:00am - 9:30pm

Sat

11:00am - 9:30pm

Sun

12:00pm - 8:30pm
Reviews
love the food. just need a children's menu

Sue — 9/5/2018
always great

Kelly — 4/11/2018
Pizza crust was thinner side but it still was delish.

Sue — 4/3/2018
Tasty chicken soup. I love your antipasto salad, it will be nice if there are olives in it!

Sue — 4/3/2018
Great pizza

Sue — 4/3/2018
Fast and delicious. Great as always!

Lin — 12/14/2017
Great Food quick service

Mike — 10/18/2017
Food arrived before estimated time and it was still warm. Thank you.

Olga — 9/10/2017
Labellas is the diggity bomb

Isaac — 8/9/2017
Reall good food, never have had a problem with service, I'd definitely rccomend LaBellas!!

Seth — 7/11/2017
Have been ordering from LaBella's for years. Very good food and very consistent. Great NY style pie. Ordering with Mealeo makes it even better and more convenient.

Matthew — 5/17/2017
Delicious - Salad was fresh and full!

Keya — 5/11/2017
Best food on the planet

Joe — 2/25/2017
Love the soup!

Carina — 1/6/2017
EXCELLENT.

Richard — 12/4/2016
Loved it.

Richard — 12/2/2016
Excellent.

Richard — 11/30/2016
Good food.

Richard — 11/19/2016
Excellent food.

Richard — 11/17/2016
Fast delivery and fantastic food

Jennifer — 10/8/2016
alfredo is the best

Marcel — 7/6/2016
5 Stars as always

Marcel — 7/6/2016
The Best

Marcel — 6/15/2016
Great food, consistently good. Pizzas are perfect and flavorful. Dinners are nicely prepared. Delivery is prompt and delivered hot. We order from LaBella's regularly - they do not disappoint.

Doug — 5/6/2016
great vodka sauce

Marcel — 5/5/2016
perfect as always

Marcel — 4/27/2016
fabulous as always

Marcel — 4/18/2016
perfect as always

Marcel — 4/5/2016
incredible , fresh, great food

Marcel — 3/31/2016
food was excellent , fresh

Marcel — 3/7/2016
Pizza is always good but they can't seem to get the soda order correct. Little thing. Delivery is quick.

Sur — 10 days ago
Easy ordering, Fast delivery, great food!

Lisa — 4/27/2018
Always prompt delivery and food is always good

Seth — 12/7/2017
Really, really, really yummy franchese! Loved it so much, but was told by the driver they would never deliver to Troy again, because they are too far away. Soooooo......why does Meleo have them as an option???

Aimee — 8/15/2017
Delivery was very quick and the food overall was very good. The chicken tenders could have been a little bit more crispier but still good.

Candi — 4/19/2017
Would give five stars but found the chicken in the parm a bit chewy. Quick service. Delivered hot. Friendly delivery person.

Sue — 1/4/2017
Food was delicious and arrived on time!

Susan — 12/26/2016
Great food delivered hot and on time... what more could we ask for?

Susan — 2/15/2016
HUGE servings. The pasta and meatballs are excellent... we order often. Only sad part is eggplant parm should have crispy slices of eggplant, but they get soggy while baking in sauce. This doesn't stop us from ordering other things!

Susan — 12/23/2015
It's been an hour and a half and the pizza isn't here yet. Hope it's still in one piece. Clear night. 3 miles away. No excuse for this. I should get 1/2 off. Pizza is usually good. Delivery is lacking lately.

Sur — 10 days ago
ordered a pepperoni calzone. It showed up with mushrooms and pepperoni. 8 slices of pepperoni to be exact.

April — 2/3/2017
THEY DO NOT READ SPECIAL INSTRUCTIONS, WASTED $17.50 ON A STEAK PIZZA DRENCHED IN HOT SAUCE... WON'T ORDER THERE AGAIN,,

Larry — 12/22/2018
shorted me some of my order items.

Neil — 10/5/2018
We ordered half medium wings, half garlic parm wings, and were charged $2.00 to do so. We received 10 cold dry wings, and a cup of cold almost solid sauce of some kind. When I called, the manager told me they don't split orders, although we have always done so, and I was charged anyway. He saI'd oh, the $2 is for your sauce. Besides a cold dinner, the delivery guy made his young son get out in 10° weather to delover it with the 2 liter squishing the pizza bix. Very unprofessional, they used to be a favorite. Something has chaned, and not for the better.

Nancy — 3/11/2017