←Back to restaurant list
Giuseppe's Pizzeria
450 3rd Ave
Watervliet, NY 12189
Order Minimum: $15.00
Delivery Time: 45-60 minutes
Restaurant Description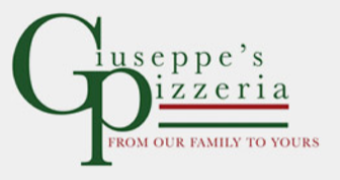 Proud First Place Winner at the Watervliet Wing War! Giuseppes is a family owned and operated Pizzeria and Deli. We offer a wide variety of gourmet pizzas, overstuffed subs, yummy sandwiches and an assortment of salads made fresh daily. We have several dinner selections, from homemade lasagna, eggplant parmigiana to stuffed shells and manicotti to name a few. All featuring our delectable homemade marinara sauce!

Giuseppe's Pizzeria offers American, Burgers, Cakes, Catering, Italian, Pasta, Pizza, Salads, Sandwiches, Seafood, Subs, Vegan, Vegetarian, Wings, Wraps.

ORDER ONLINE right here on Mealeo and we'll deliver it right to your door!
Delivery Hours
Mon

Closed

Tues

10:30am - 8:45pm

Wed

10:30am - 8:45pm

Thurs

10:30am - 9:45pm

Fri

10:30am - 9:45pm

Sat

12:00pm - 9:45pm

Sun

2:00pm - 7:45pm
Reviews
Food was delicious and arrived hot.

Rachel — 9/6/2018
Fast delivery and food was fantastic!

Robert — 4/14/2018
Ordered the turkey club- sandwich was excellent, the turkey was very fresh.

Erin — 2/9/2018
excellent

Patrick — 1/27/2018
Food was good, order was accurate and delivered in a decent time frame.

Paul — 11/29/2016
Love these guys! Always fast and good and they know us well!!????????

Anne — 7/16/2016
Best honey bbq boneless wings I've ever had for delivery in the Menands / Cohoes / Troy area. Everything was on time, fresh and hot. 5stars!

Blake — 12/16/2015
Excellent pizza and delivered in a timely manner!

Bethany — 8/1/2015
Excellent food!

Michael — 7/22/2015
The first time I ordered EVERYTHING was delicious!!! Soooo I am ordering again :-)

Karen — 2/14/2014
Pizza is excellent!

Laura — 2/1/2014
I've never had anything from this place that I didn't love!

Trevor — 9/15/2013
Great food and fast delivery

Daniel — 1/27/2013
awesome food.

liz — 1/1/2013
Normally 5 stars- their food is usually fantastic. My family uses them for catering. Unfortunately this time they forgot the mayo and onions on the sub and the Alfredo had so much garlic in it nobody could eat it. We have Italians here who usually say no such thing as too much but this time there was. ):

Allison — 11/20/2016
The food is always top-notch. However, I suggest you pick up vs. Deliver...it took 2 hours for mine to arrive. As good as it is, I'm not ordering from them again.

Laura — 2/25/2013
I don't submit reviews here, I expect take out to be take out. But this by far was the worst eggplant parm I've ever had in my life. I do not know that it was even eggplant, it was more a deep friend piece of paper left soggy due to the marinara sauce. The pizza was dry, which as a white pizza is expected. But the chicken tasted freeze dried and I'm still sick two days later from whatever I ate. I'm giving two stars because the delivery driver was nice. Would not recommend ordering from here. Sorry

Violet — 1/1/2018
Very disappointed in the pizza we received this afternoon. Up to this point everything we ordered from this restaurant was wonderful. Today the pizza was cold and dry. I seems this was a left over pie from lunch and just sent out to fulfill our order.

Robert — 3/9/2018
I really wanted to rate zero stars for their delivery service but I was required to rate at least one. I placed a $50 order and was quoted 45 minutes. It took over an hour and a half. The wings and pizza were cold and it wasn't even the right pizza. Never ordering again.

Terra — 12/11/2015
I have been ordering from this restaurant through mealeo for quite some time but my last order turn me off of this restaurant for good.

Mary Jo — 2/15/2015