←Back to restaurant list
The Purple Pub
2 Cohoes Rd
Watervliet, NY 12189
Order Minimum: $10.00
Delivery Time: 45-60 minutes
Restaurant Description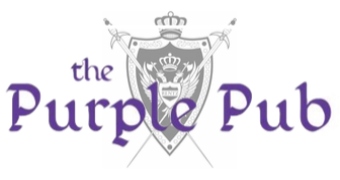 Italian dishes are still a favorite at the Purple Pub but, the menu has expanded to include a variety of items. Award winning Buffalo Wings, fresh salads, steaks and seafood, and both hot and cold sandwiches round out the menu. But the one staple that keeps everyone coming back for more is the Pizza. From Libby's original sauce recipe came an item that has transcended generations. "After 37 years we are now seeing our past customer's children and grandchildren, and their families dining with us" say the owners "It's nice to know that our family restaurant is also our neighbor's family restaurant."

The Purple Pub offers American, Bakery, Bar/Pub, Burgers, Catering, Dessert, Healthy, Italian, Lunch, Pasta, Pizza, Pub Fare, Ribs, Salads, Sandwiches, Seafood, Soup, Steak, Subs, Vegetarian, Wings, Wraps.

ORDER ONLINE right here on Mealeo and we'll deliver it right to your door!
Delivery Hours
Mon

Closed

Tues

4:00pm - 9:30pm

Wed

4:00pm - 9:30pm

Thurs

4:00pm - 9:30pm

Fri

4:00pm - 10:00pm

Sat

4:00pm - 10:00pm

Sun

4:00pm - 8:30pm
Reviews
The best pizza EVER!!

Candi — 9/6/2018
awesome as always

Larry — 7/1/2018
alaways an awesome meal, friendly staff

Larry — 6/2/2018
a+

Ronald — 1/23/2018
excellent

Patrick — 12/4/2017
awesome!

Ronald — 12/2/2017
Hands down the best pizza in the capital region

John — 11/22/2017
Great food and atmosphere

Kelly — 12/30/2016
Thanks for coming past route 9 to our address!! Wish you would do it all the time, you're our favorite Renchkovsky planz

Kari — 12/28/2016
Pizza cooked to perfection and did not arrive soggy.

Sharon — 3/20/2016
Delivery on time. Pizza Crust is so so so good!!!

Blake — 3/5/2016
Excellent wings under the broiler!

Shayna — 1/29/2016
Awesome. The crust was so damn good.

Blake — 1/24/2016
Pizza was very tasty, sauce had a nice flavor to it. Quesadilla was perfectly cooked. Hot turkey sandwich one of our favorites

Linda — 1/6/2016
Our first order from Purple Pub was a very nice surprise. The fried chicken dinner, always a dicey bet for take-out, was hot and crispy n the outside and very tender and juicy on the inside... just perfect. The Reuben was also delicious, maybe the best in the area. We'll order again soon!

Susan — 10/26/2015
As ordered. It was delicious, as expected. 40+ years of good food. Thank you Purple Pub.

Scott — 4/3/2015
Purple Pub has always been great whether delivery or in the restaurant. Love it.

Kenneth — 3/12/2014
This was my first time eating food from the purple pub and I loved it. Food was fresh and still hot when I received it.

Reine — 3/1/2013
BEST PIZZA!

Stacey — 4/7/2011
best veggie pizza around! (cheese pizza is pretty awesome too!)

Paige — 8/27/2010
best veggie pizza around! (cheese pizza is pretty awesome too!)

Paige — 8/27/2010
Pizza was great but wings weren't crispy enough :(

Kerry — 7/1/2018
Loved the broiled wings!

Katie — 4/2/2017
Ordered Parmesan Boneless Wings with our order. Got home to find what appears to be hot wings. Per call, this is their recipe- mild wing sauce and Parm. However, these were not mild and they were bright orange, swimming in grease and butter. I'm very disappointed in that i have ordered them before and never had this mess served to me. Whoever I spoke to on the phone wasn't willing to do anything about it. The pizza and bbq wings were good as always which is why we eat here. This is the first time I have used the online ordering system and it was very user friendly.

Evelyn — 1/6/2017
Great pizza, but delivery always takes about an hour.

Stacey — 5/12/2012
Food was very good only thing is I ordered garlic parm wings and got hot wings!!!

Eliza — 10/19/2018
Calamari was not worth the price

Constance — 9/22/2017
the seafood platter may have been left on the steam table to long. was like fried jerky. The cocktail sauce was watered down.The chicken parm had no flavor other than the sauce.We have had much better.

Robin — 2/7/2017
Pizza wasn't cut all the way and looked like driver dropped it.

Jennifer — 10 days ago
Not impressed at all. Delivered me the wrong wings They are not garlic parm that's for sure

David — 12/10/2017
They never gave us the soda we ordered. Can't stand places that charge you for stuff then not deliver it. Feel robbed.

Stephanie — 7/30/2016
asked for dressing on the side got none for $55.00 should have gotten dressing

Rose — 12/20/2015
Very unhappy with the salad and soup ! The pizza and wings were very good

Terri — 3/29/2013
Submitting review her because meal canceled the last review I left because it was against them and not the restaurant. Both were horrible in this instance. LOVE the pizza, Im a regular customer.Always takes a while for delivery and thats fine. This time however was 2 hours. Meal would not give me my tip money back. Then when the food finally shows, it's missing my soda. So I was FORCED to tip $5 as they wouldn't refund AND pay $2.50 for a pepsi that didn't show. AND the driver has the audacity today "here ya go hot and fresh" as he hands me a pizza that was in his car for 2 hours without a heat bag. I made a fuss and EVENTUALLY MEALEO Saw it my way and decided to refund after the fact.but also took down my review so Im posting here on my last order. CALL THE RESTARAUNT or go to their website.AVOID MEALEO!!!

Rich — 12/1/2018
chowder had no clams and chicken meat was pulp,, as if thawed and then refrozen. vert disappointed.

Susan — 1/10/2018
Took 3 hours to get here

Caleb — 5/13/2016
requested gravy on side for fries on open turkey ignored request the fries were mushy and went to garbage

Rose — 1/8/2016
2 times we ordered, both times took nearly 2 hours to get delivery. Alfredo is just the premix powder and water, chicken is heavily salted and processed. Pizza is only saving grace, though also nothing special in today's over-saturated pizza market. Many years ago they were good. I have no clue what happened. Quite sad

Eron — 8/15/2015