←Back to restaurant list
D'andrea's Pizza (Wilton)
654 Route 9
Gansevoort, NY 12831
Order Minimum: $10.00
Delivery Time: 45-60 minutes
Restaurant Description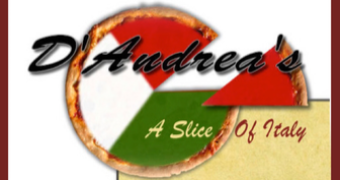 Welcome to D'ANDREA'S PIZZA "North" - our newest addition to the family! When Rory and Bob decided to make and sell pizza they decided to provide one of the best pizzas in Saratoga, and they've now expanded to another location serving even further North. Delivery Is Fast & Free! - Whether you are in Saratoga Springs or Wilton - at D'Andrea's Pizza we deliver Free of charge.

D'andrea's Pizza (Wilton) offers American, BBQ, Catering, Italian, Pasta, Pizza, Salads, Sandwiches, Seafood, Steak, Subs, Vegetarian, Wings, Wraps.

ORDER ONLINE right here on Mealeo and we'll deliver it right to your door!
Delivery Hours
Mon

11:00am - 8:30pm

Tues

11:00am - 8:30pm

Wed

11:00am - 8:30pm

Thurs

11:00am - 8:30pm

Fri

11:00am - 9:30pm

Sat

11:00am - 9:30pm

Sun

11:00am - 8:30pm
Reviews
Delivered early and food was great!!

Justin — 5/26/2018
Excellent

David — 7/29/2017
DELICIOUS. delivered on time and was made to perfection!

Chelsey — 6/19/2017
Delivery person was very friendly, and my food was on time and cooked to perfection! thanks!

Chelsey — 6/12/2017
Always GREAT wings, best in the area!!!

Colleen — 5/23/2017
it was good ty

Kyla — 5/7/2017
Fast delivery...and good food!

Shakaria — 4/18/2016
always fantastic

Sean — 11/11/2015
great stuff!

Sean — 11/11/2015
I've ordered from D'Andrea's (Wilton) multiple times for delivery. I've tried the pizza, sandwiches, salads, and appetizers. Everything has been consistently and surprisingly good! However I once ordered on a Sunday and for some unknown reason, it was terrible- the Greek salad was totally void of everything but lettuce and a few onions, and the pizza was cold and soggy. I don't know what happened there and it was really shocking. Luckily, I have ordered from D'Andrea's many times before and wrote this one order off as a total mistake. Nonetheless, I wanted the manager to know in case someone else tends to work on Sundays because it was a night and day difference in quality.

Lisa — 4/21/2015
Love your pizza.

Bonnie — 2/19/2015
Perfect pizza Craig!

Renee — 8/7/2014
Awesome job!!

tarrene — 7/25/2014
The garlic parm wings were awesome

tarrene — 7/25/2014
What great service. Thanks!

Donna — 6/12/2014
Great Wings and pizza! Awesome Guys working.

tracy — 11/3/2013
Loved the pizza and wings...sauce, dough and fixings were delicious...just a touch of sweetness, but not overpowering. Doug was not too thick or thin, just right and not over cooked either...sweet too. Buffalo wings were super...loved the sauce and flavor. You're our new neighborhood pizza place!

Caren — 5/12/2013
Took an hour and fifteen minutes to receive order. I called the Wilton shop only to find out that it had been sent to Schuylerville. I clicked the Schuylerville button when placing the order but it did not go there. The pizza was warm when we received it. In the end, it was delicious.

Todd — 10/30/2014
They are close and friendly, could use better ingredients though.

Michael — 8/6/2015
We ordered 2 calzones. They didn't taste bad, but there was barely any cheese in them and the amount of meat filling was left to be desired. There was probably about 2 inches of dough around the circumference of the calzone. Also, the Order took 1 hour 15 minutes to be delivered. When I called to inquire about the status of the order the girl Was laughing about me calling. Definilty not impressed and we probably won't be ordering from here again.

Stephanie — 8/7/2018
Did not get the soda or the poppers that I ordered! starting to see a pattern here, I dont normally complain or submit reviews, however, the last 5 times one thing or another has been wrong or bad about my experience with your service. I like your food and it is convenient but If this pattern continues I will switch to another pizza place.

lucas — 2/28/2018
Buffalo Chicken pizza was soggy

Maeghen — 10/19/2015
Usually love D'Andrea's, but this time, the order was delayed (just going into the oven 40 mins after the order was placed) and centers of both meatball parm breads were completely raw. Very disappointed.

Michelle — 9/2/2014
you should change your estimated time or remove it all together since its never accurate. the last three times or so its been atleast 20-30 later than the time says, today it is almost an hour after the estimated time and its still not here, you lost this customer!

lucas — 10 days ago
i ordered drinks. never received them

John — 25 days ago