←Back to restaurant list
The Stuffed Rooster
1202 Troy Schenectady Rd
Latham, NY 12110
Order Minimum: $20.00
Delivery Time: 35-50 minutes
Restaurant Description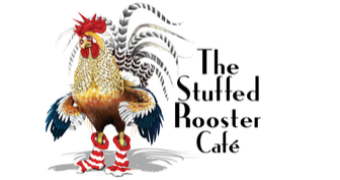 Welcome to The Stuffed Rooster, located in Latham, N.Y.!
Our menu offers a variety of breakfast sandwiches, specialty sandwiches, grilled paninis, wraps, and a "Salad As You Like It" where we give you endless of toppings and options to customize your salad! No matter what you choose, here, you are sure to get stuffed!
Order online now for pick up and your food will be ready when you arrive!

The Stuffed Rooster offers American, Bistro, Breakfast, Burgers, Coffee & Tea, Deli, Gluten Free, Healthy, Lunch, Salads, Sandwiches, Vegan, Vegetarian.

ORDER ONLINE right here on Mealeo and we'll deliver it right to your door!
Delivery Hours
Mon

9:30am - 5:00pm

Tues

9:30am - 5:00pm

Wed

9:30am - 5:00pm

Thurs

9:30am - 5:00pm

Fri

9:30am - 6:30pm

Sat

Closed

Sun

Closed
Restaurant Photos
No photos are available of The Stuffed Rooster.
Reviews
Very much enjoyed my lunch. I will order again for sure!

Craige — 10/23/2018
Love the daily lunch specials; homemade soups are to die for. Sandwiches always fresh and orders delivered on time! Love it

Jeanne — 10/1/2018
Delicious as always!

Randilynn — 7/2/2018
Very fresh ingredients used. Everything was superb. Will be back to order again!

C — 6/26/2018
Ordered for the first time tonight. Food was deleivered very quickly and everything was delicious. We will definitely be eating from here again

jason — 5/11/2018
It was delicious and was here faster then I would have thought.

Randilynn — 5/9/2018
This was a really great Breakfast. Wished they were on here this morning when I forgot mine again!

Randilynn — 5/7/2018
FINALLY a place where you can get a delivery sub that has GOOD meat. I cannot say enough good things about this place, I don't think I'll be ordering from anywhere else ever again. Pasta salad with cheese, salami, tomato, chick peas, banana peppers, AMZING. Amazing red potato salad, everything just tasted so fresh! Can't wait to try more of the menu.

Kelcie — 3/22/2018
Fast delivery! Food was fresh and delicious! The driver could not have been nicer.. will definitely be ordering from here again.. great new spot!

Alexandra — 3/20/2018
once again I had the New England clam chowder and it was delicious. The reuben was a bit dry, could have used more dressing

Marian — 9/14/2018
ordered a BLT on wheat and asked for it lightly toasted, unfortunately it was toasted too dark which made the sandwich dry. Clam Chowder was delicious. Will order again and try something else

Marian — 9/7/2018
Love the food as always. The only thing is I didn't want so much oil on my grilled veggies and they were still slathered in oil.

Randilynn — 7/30/2018
sandwiches were average, but tasty.

Michelle — 10/23/2018