←Back to restaurant list
Tomo Asian Bistro
1365 New Scotland Rd
Slingerlands, NY 12159
Order Minimum: $15.00
Delivery Time: 45-60 minutes
Restaurant Description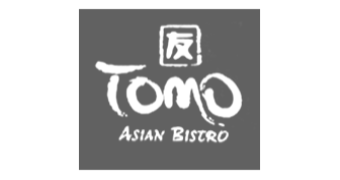 Welcome to Tomo Asian Bistro, located at 1365 New Scotland Road Slingerlands, NY 12159. Begin your voyage with our diverse food destinations, offering a wide variety of different choices. You can simply select your choices of meats, seafoods, vegetables and the chef will create your fresh and succulent dish on request. Our food quality, friendly service and cleanliness will exceed your expectations. We look forward to serving you. Order right here for the fastest service and delivery.

Tomo Asian Bistro offers American, Asian, Bar/Pub, Catering, Chinese, Japanese, Noodle Shop, Salads, Seafood, Steak, Sushi, Vegan, Vegetarian.

ORDER ONLINE right here on Mealeo and we'll deliver it right to your door!
Delivery Hours
Mon

11:00am - 10:15pm

Tues

11:00am - 10:15pm

Wed

11:00am - 10:15pm

Thurs

11:00am - 10:15pm

Fri

11:00am - 10:45pm

Sat

11:00am - 10:45pm

Sun

12:00pm - 9:45pm
Reviews
fast courteous and exactly what i ordered

Pamella — 4/6/2018
fast service and great food

Calvin — 8/31/2017
Tomo has the best Chinese food in the Capital Region! Their sushi especially is delicious and so fresh.. we never order a meal without their crab rangoon! So good!

Kate — 6/18/2017
Always fresh and fantastic!

Lori — 2/17/2017
Tomo is always good!

Joe — 8/19/2016
I could not be happier about this restaurant, everything I order here is fresh, clean and delicious, delivery people are prompt and courteous

George — 8/8/2016
Food was great. From what I could tell they're really busy and get a lot of customers. Took a bit longer than expected for my food to get here, but I wasn't in a rush. I will certainly order again if I'm in the mood. A+

Jeremy — 6/9/2016
No complaints, noticed they changed up a roll. It had crab meat in it instead of just shrimp, perhaps to balance out the excess breading it normally has. Overall, good as always.

Zac — 5/25/2016
Recommended! Always love trying new things. This was a good choice.

Josh — 5/23/2016
Yum yum yummy for my tummy. New favorite place.

Aster — 5/23/2016
Deliciousness

Veronica — 5/12/2016
Just one word... Fabulous! It goes without saying, only the best get to be called. With affordable prices and quality platters, this was without a doubt a great lunch special and with a decent delivery time. I'm amazed these people don't have a franchise chain across the country. If they offered to do training they could produce some incredible modern day sushi chefs to run their brand name across the state. Tomo, a true friend!

Donald — 4/6/2016
Good quality shrimp, tasty grilled eel, and a wonderful assortment of Sashimi. 10/10 would order again.

Bernie — 4/6/2016
Chicken Pad Thai was pretty good. I think their lunch specials are okay, wish they offered more lunch specials that include appetizers as part of the combo.

Arnie — 3/30/2016
Loved the tempura rolls, not too keen on the price of the noodles, but its overall really good and nice service.

Jessica — 3/30/2016
Best sushi!

Jake — 3/30/2016
I've tried a lot of local sushi spots - Tomo is my favorite. Very fresh sushi! I always have to order a little bit of everything. Great service as well!

Kate — 3/5/2016
I've seen comments about their Thai and Chinese. I know this seems kind of moot, but they are an Asian Bistro so they serve a little flavor of the different Asian cuisines, not a lot of Chinese or Thai choices, but that's not TOMO's specialty. If you want their best dishes you'll have to go with the Japanese dishes. Their Sushi is the superb and they always get my deliveries correct even when I have 8 plus different orders. You'd be surprised how many times I've gotten missing or wrong orders from other various restaurants. Don't get me wrong, if you're looking for the best tasting food you've ever had, then maybe you should be going to a 5 star restaurant and paying $100+ for your meals. Otherwise for the price TOMO's is the one of best places in Slingerlands.

Zac — 3/2/2016
Always amazing!

Erica — 2/12/2016
Really nice dishes. Veg lo mein had a nice variety of veggies, which seems rare nowadays. Portions were generous too. Thanks!

David — 2/7/2016
Always delicious! Thank you Tomo!

Kate — 2/5/2016
Good as always. If you have not tried Tomo Asian Bistro, then I feel sorry for you. It's too good to pass up. Their lunch specials can't be beat.

Zac — 12/30/2015
Good food, extremely consistent quality. I'm very hard on places for their sparing amounts for such high costs. This place is very much worth the price and the selection is perfect. My favs - Incredible Roll, Monkey Roll, Shrimp Tempura Roll, and Spicy Crab Roll. Lo Mein isn't bad, but not too fond of the rangoons or General Tso's. The sauce is too thin for my tastes. The Rangoons were too hard and sparingly had much cream in them. It's hard to find a place that does good rangoons in the first place. A square piece just folded once from corner to corner is all you need then lightly fried with a good amount of cream inside. Makes for a perfect Rangoon. These crazy folded rangoons always come out too hard and lack a good center.

Zac — 10/28/2015
I love to order takeout from this place!

Amanda — 10/27/2015
Always fast and the order correct. Highly recommend Tomo.

Chika — 4/19/2015
Very quick delivery. Food is always tasty and there is plenty of it. Highly recommended.

Jennifer — 2/28/2015
Exceptional!

Patricia — 4/30/2014
Unexpectedly fantastic. Everything was well prepared, full of rich and fresh flavors, and the order came hot and fast. Will order from here again.

Patricia — 4/30/2014
Best chinese food.... I have ever had. I never fill out these reviews. I was compelled to come on and submit a review based on how outstanding ALL of my meal was. Delivery time was LONGGGGGG but they were probably slammed tonight. even with an hour and a half long delivery time it was worth the wait. Still giving them 5 stars :)

Grant — 2/21/2014
Best Crab Rangoon! Everything over multiple orders has been excellent.

Danae — 12/12/2013
Delicious Sushi, really fresh. Huge portions, fair prices if you do the lunch special

Bethany — 4/17/2011
Sushi is decent quality, standard options, not particularly extensive menu, Clean, easy, friendly service. Hits the spot.

Elizabeth — 3/26/2016
Delivery took little more than 1and half hour which was kind of bad, and 2 foods i ordered was kind of bad. I could finish it though but i did not enjoy them.

Scott — 3/19/2016
Ordered the Tom Kha and Tom Yum. Neither was very good at all, very bland and not a lot of flavor. Disappointing. The other items we ordered were decent, though pretty standard. Ordered here based off of all of the positive reviews and maybe we'll try the Chinese food in the future, but for Thai food, there are much better options in the area.

Paul — 2/26/2016
Super late delivery on December 29th, 2015 That is unusual for the, as they are normally prompt.

Alessandro — 12/29/2015